Open your space up to the world with one of our most innovative roof windows: the VELUX CABRIO® Balcony!
We tend to talk a lot about our skylights because homes built in the US are generally more compatible with skylights than roof windows. But roof windows can be a great daylighting option for a room over the garage or refurbished attic space. That's the thing about roof windows - they need to be within reach for you to open or close them. And, if we're being honest, the CABRIO is one of the coolest roof windows to put in your space with lower ceilings. Just look at it in action:
What Makes a CABRIO Balcony
The CABRIO is unique in that it's both a roof window and a balcony, but exactly how does it work? Check out more about the different components and see how they work together to bring air, light, and a great view to your home: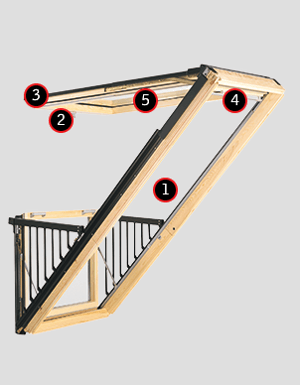 Panoramic views. The CABRIO features a window that opens on its top hinges, allowing for extra headroom so you can enjoy panoramic views.
Easy operation. The upper window is top-hung and opens outwards while the bottom section easily unfolds into a balcony with side railings.
ThermoTechnology™. VELUX ThermoTechnology™ is an innovative combination of high-performance materials that provide excellent energy efficiency, insulation, and an airtight seal.
Natural ventilation. A unique top control bar can be pulled once to allow fresh, filtered air to enter through the ventilation flap so you can enjoy fresh air without fully opening the balcony.
Simple maintenance. To clean the outer pane, rotate the sash 180° after securing it into position with the barrel bolt at the bottom of the frame. While the window is in the cleaning position, you can remove the air filter from the filter rail and wash it with ordinary household cleaners.
The CABRIO has a standard clear-coated pine finish on the interior frame and a grey aluminum exterior cover that may be color customized.
CABRIO Size Options
While the CABRIO has been around for about 30 years, we've recently added a new sizing option to our roof window line-up. The standard CABRIO has a rough opening of 39-3/8 inches wide and 101 inches long. The CABRIO MK19 was designed as a solution for rooms with limited space, so it's smaller and is designed to fit perfectly between most roof rafters for an easier and faster installation. Its rough opening comes out to 32 inches wide by 101 inches long.
CABRIO & Innovation Nation
Want to see even more about the CABRIO? Check out this feature on The Henry Ford's Innovation Nation -- and get a glimpse at where VELUX got its start!
Ready to add a CABRIO to your home? Click here to find a VELUX installer near you!