Skylights are a great addition to a home by how they bring in natural light and add a unique architectural feature to your living space. However, selecting the right skylight can be a daunting task, as there are many types, sizes, and materials to choose from. This blog post will help you determine what skylight best suits your home and lifestyle.
In This Article
Choosing Between Solar, Electric, and Manual Venting Skylights
The Right Skylight for the Right Room
Purpose of the Skylight
Before you start shopping for skylights you want to make sure you have a good idea of what you want out of your skylight and where you want to place it. A skylight is guaranteed to add natural light to any space you place it in, but you want to ask yourself the where and why when it comes to buying a skylight.
Where do I want to install a skylight?
Asking yourself this question can help you determine which skylight to look for, as there are different types of skylights that work best in different rooms. For example, if you want a skylight for your kitchen, you may want to consider a venting skylight instead of a fixed one. On the other hand, if you're installing a skylight in your living room, a fixed skylight may be the better option. For a hallway, you might want to look into a Sun Tunnel® skylight, which can bring natural light into hard-to-reach areas.

Why do I want to install a skylight?
What are you looking to achieve with a new skylight? Do you want more natural light, improved ventilation, or a more energy-efficient home? Answering these 'why' questions will help you determine the type of skylight you need to look for.
Different types of skylights
There are three different types of skylights to choose from, each with their own unique purpose.
Fixed
A fixed skylight comes in a variety of different sizes and is great for bringing natural light into any room. As the name suggests, a fixed skylight does not open or close. Great for living rooms and areas that don't require any extra ventilation.
Venting
Unlike a fixed skylight, a venting skylight can open and close either automatically or manually. The nice part about venting skylights is their versatility. They can be installed in living rooms and outdoor spaces, as well as in smaller areas that require additional ventilation, such as a kitchen or bathroom.
Sun Tunnel
Sun Tunnel® skylights are designed to fit between rafters and tight spaces, using small flexible or rigid tubes that bring natural light into hard-to-reach areas such as closets, hallways, and bathrooms.
Choosing Between Solar, Electric, and Manual Venting Skylights
Venting skylights can reduce energy costs by releasing stale air and harmful moisture that can build up in spaces like a bathroom or kitchen, but there are different options when considering a venting skylight.
Solar
A solar-powered skylight features a solar panel that captures any available daylight and is the power source that opens and closes the skylight. The beauty of a solar skylight is that you can take advantage of the federal solar tax credit and save 30% on product and installation.
Electric
An electric skylight is a type of skylight that can be opened and closed using an electric motor, which is typically operated by a remote control or a wall-mounted switch.
Manual
As the name suggests, a manual skylight opens and closes manually without the use of electricity or solar energy.
The Right Skylight for the Right Room
Here is some inspiration on which skylight to buy depending on the room where you want to add natural light and fresh air.
Kitchen: Venting Skylight
As we've mentioned before, a venting skylight does a great job of opening up your kitchen by the way it brings in natural light and ventilates any cooking odors and humidity that may be harmful to your health.
A venting skylight can be solar or electrically powered and remote or manually controlled. A solar-powered skylight is your best option being more sustainable and cheaper if you take advantage of the 30% federal solar tax credit.
Be sure to include shades to block out the intense glare and heat for the summer months. Try light-diffusing shades rather than darkening shades for an even distribution of light in your kitchen.
A Sun Tunnel® skylight is also a great option for illuminating a small part of your kitchen such as your sink or cutting board area.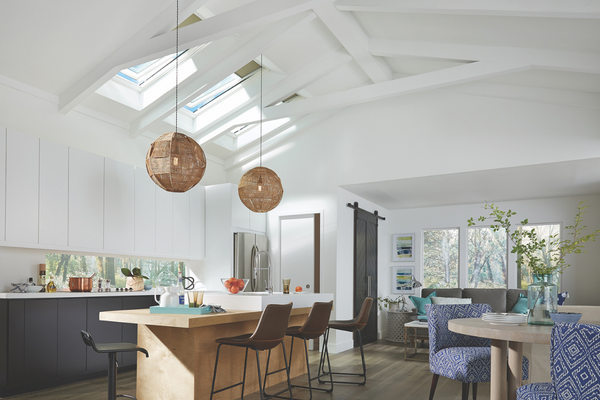 Bathroom: Venting Skylight or Sun Tunnel Skylight
One of the main benefits of a skylight is the fresh air and daylight that it brings while maintaining privacy. With a venting skylight, you can naturally release steam and hot air preventing moisture and unwanted odors from accumulating while keeping that essential privacy in your bathroom.
A Sun Tunnel® skylight fits the aesthetic of a bathroom because it is a smaller, less invasive way of bringing in natural light. Think of one right above your sink to illuminate your bathroom without the use of electricity.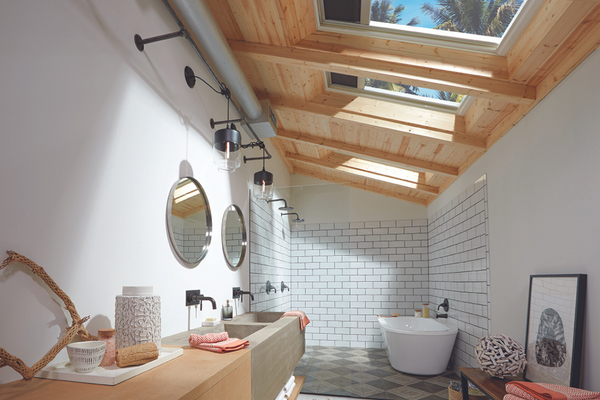 Bedroom: Fixed Skylight with Blackout Shades
Being able to wake up with the sun and stargaze at night is a dream for a bedroom. Fixed skylights allow you to enjoy the beauty of the sky from your bed without compromising on privacy.
Blackout shades are great for those wanting a deep sleep during the day as they block out 98% of light.
Bedroom Skylight Upgrade: A venting skylight is ideal for keeping your bedroom fresh by expelling hot hair and unwanted odors.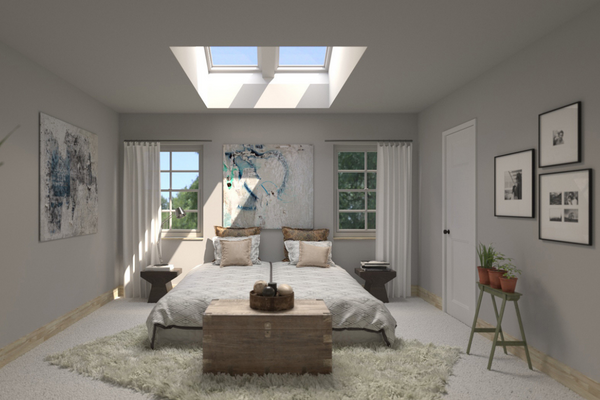 Hallway or Stairway: Sun Tunnel® Skylight
Sun Tunnel® skylights are easy to install and designed for smaller spaces. They funnel daylight through a reflective tube, bringing natural light to often dark hallways and staircases.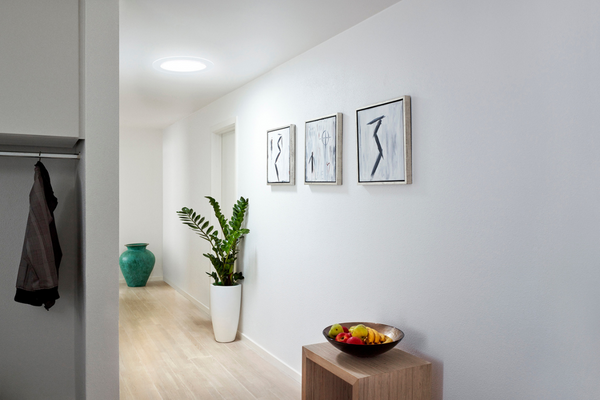 Living Room: Large Venting Skylight
You want your living room to be an open and inviting space which is exactly what skylights do for your home. Skylights provide the openness for an inviting space. The influx of natural light they bring compliments the accents and furniture of any living room.
As opposed to a bathroom or hallway, the living room gives you the option to be playful with the type and location of your skylight. You can add accessories such as shades for the hot summer months.