From primitive fixed-glass openings to today's multifaceted designs, skylights have blossomed with technological advances and creative architectural progress. We all know skylights add more daylight to a space, but now, there's so much more they can do!
With deliberate skylight planning, you can open up a room in ways that light bulbs, paint, and standard windows never could. Our eyes naturally gravitate upward, so windows in the ceiling make for an intrinsically more open feel. And venting skylights, whether manual or solar-powered, can be positioned to provide an excellent source of passive ventilation.
So if you're looking to open up your kitchen, here are 10 examples of open plan kitchens that utilize skylights to brighten the space even more!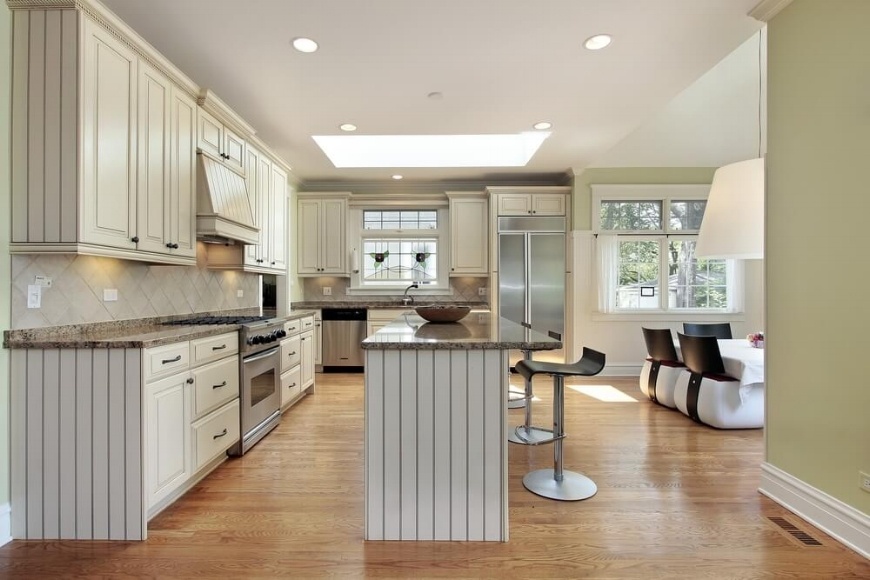 Glowing under the large skylight set in the center of the room, this contemporary kitchen also features light hardwood floors and lengthy granite countertops.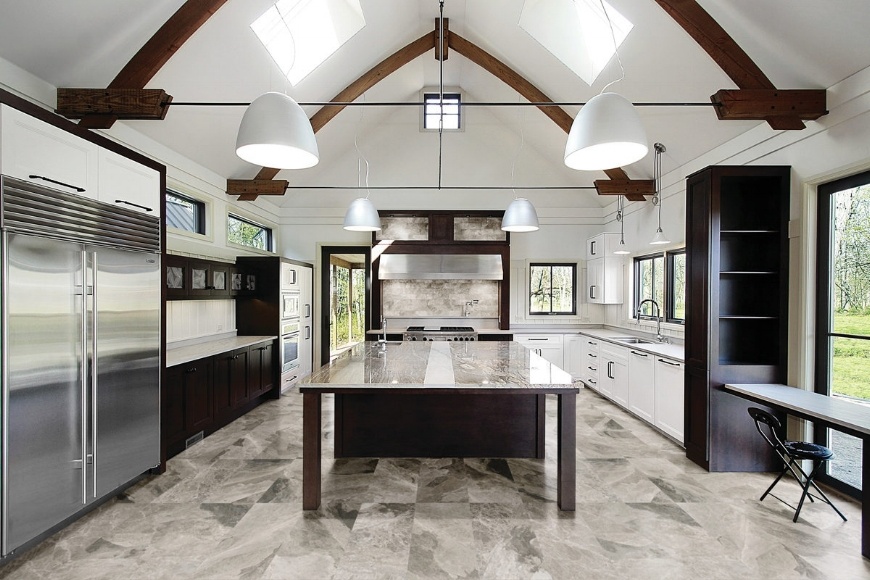 This modern kitchen features a vaulted ceiling and exposed dark wood beams. The pair of skylights contrast with the wooden beams and dark wood cabinetry to add a rich sense of texture.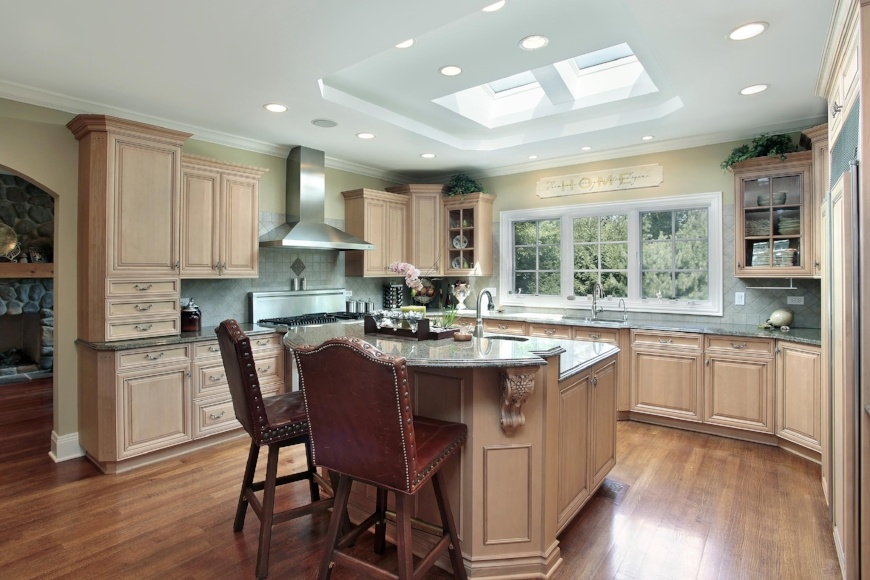 In this luxurious, traditionally-styled kitchen, a dual-pane skylight and recessed lights illuminate a large, two-tiered island. This kitchen glows even more thanks to the sleek, natural hardwood floors and light cabinetry.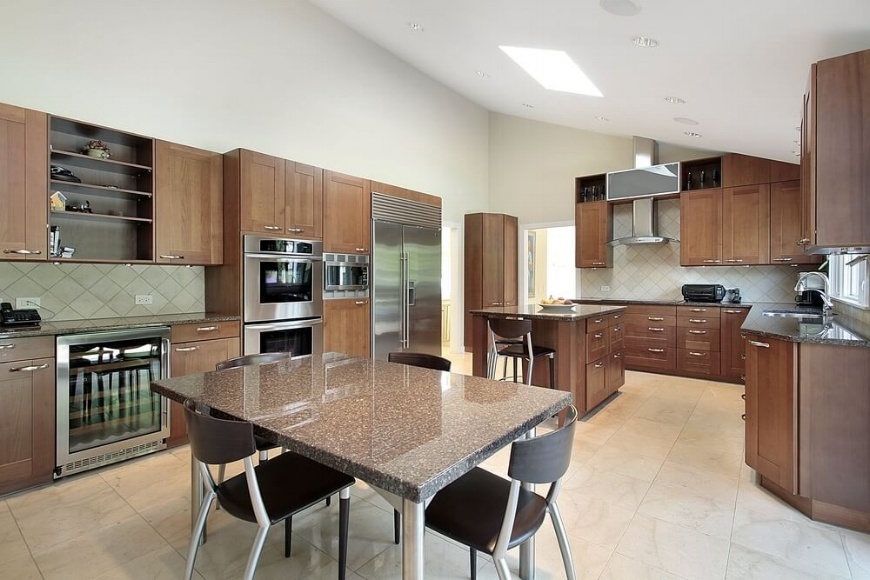 In this open space, which includes a full dining area, the natural light coming through the skylight on the angled ceiling helps further brighten the white walls and tile flooring.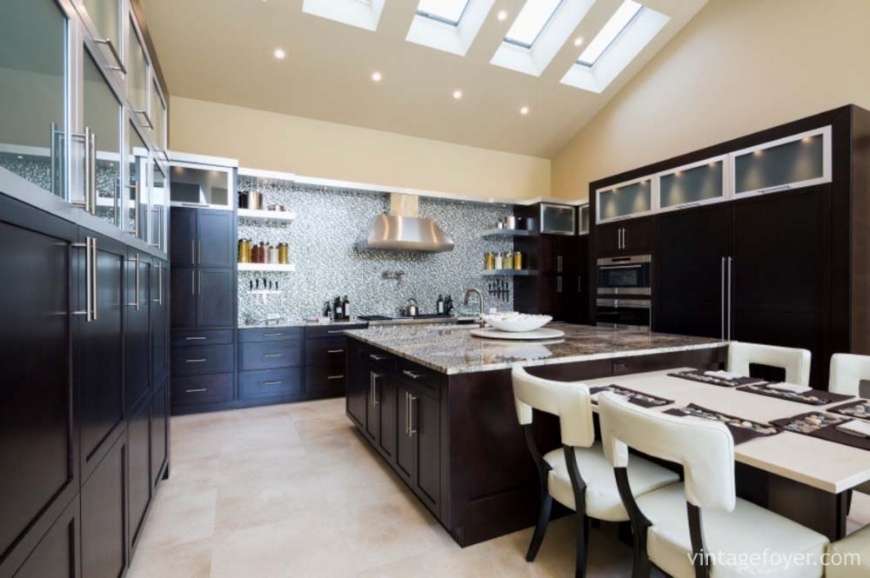 This high contrast kitchen utilizes dark wood cabinetry, light tile flooring, and a massive center island that provides abundant storage and countertop space. All the while, the huge area is illuminated by a row of skylights in the vaulted ceiling.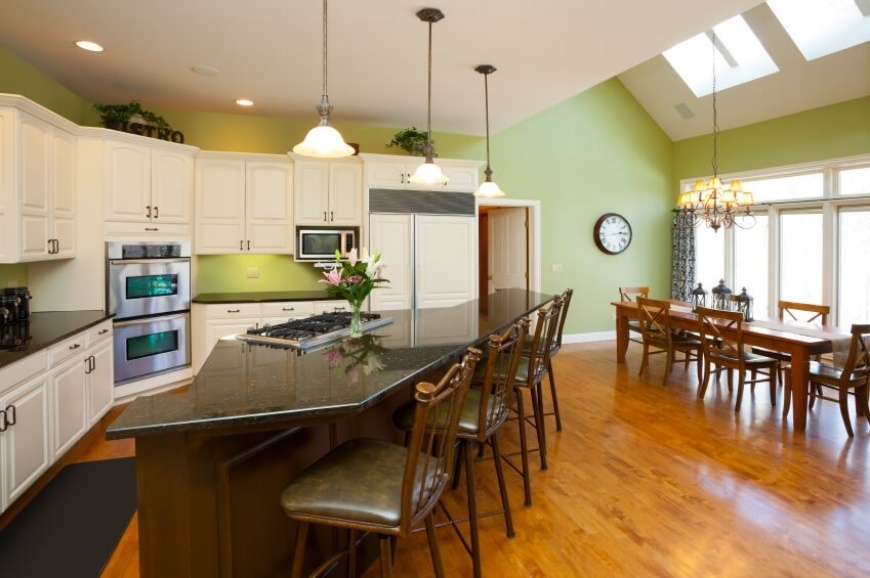 In this expansive open plan design, a large angular island has been incorporated with a full dining space to the right. Both are lit by wide skylights to the right while warm, natural wood flooring and white cabinetry add contrast to the black countertops.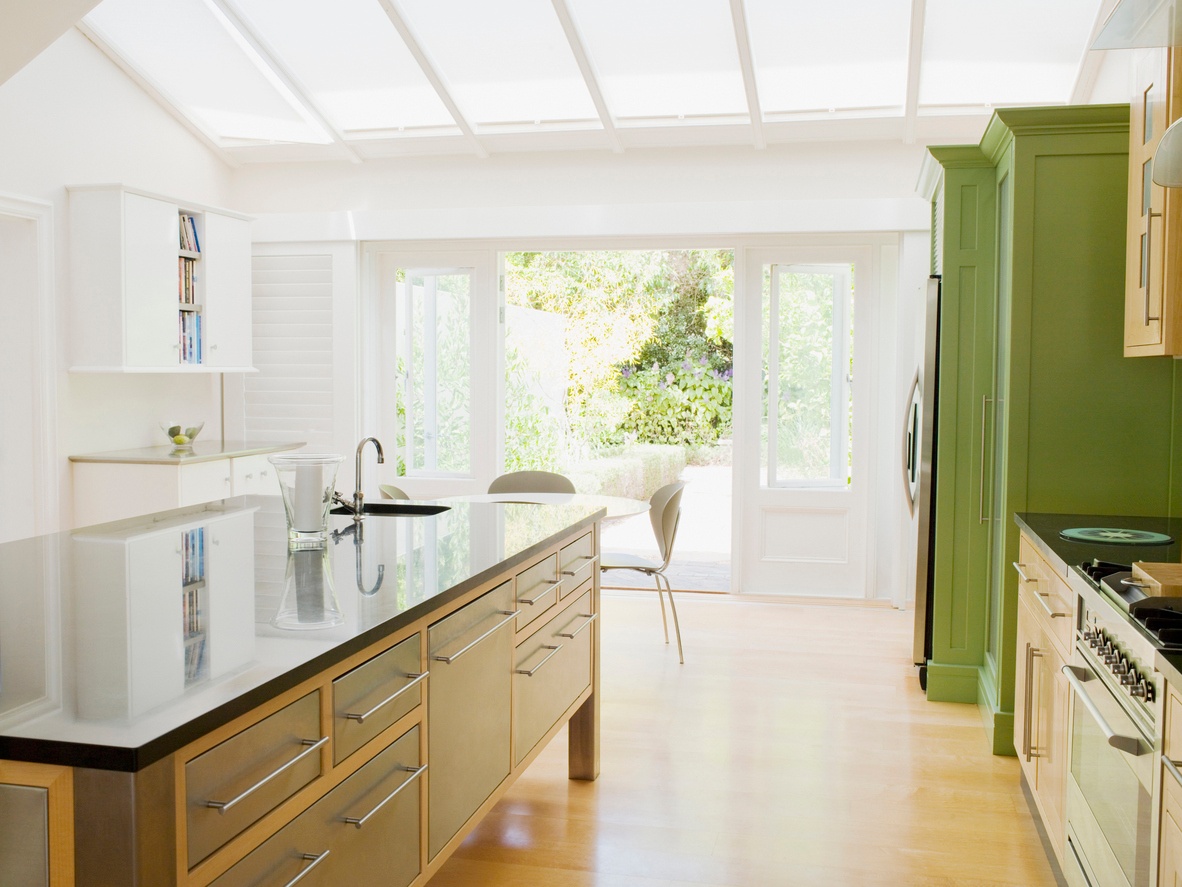 This cottage kitchen utilizes natural tones and skylights lined across the ceiling to create a simply breathtaking glow.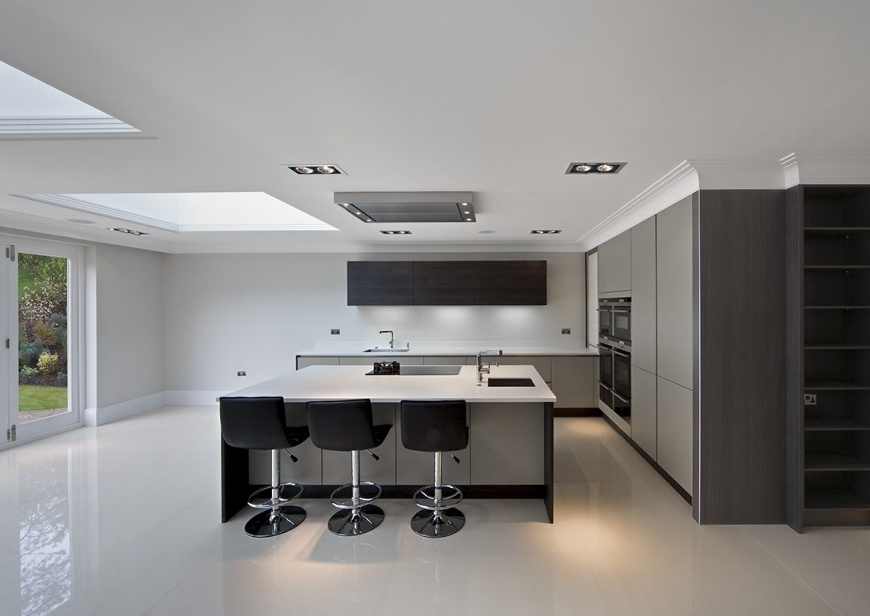 Modern colors and a polished look bring this chic kitchen together. The skylights create an asymmetrical look to complete this contemporary room.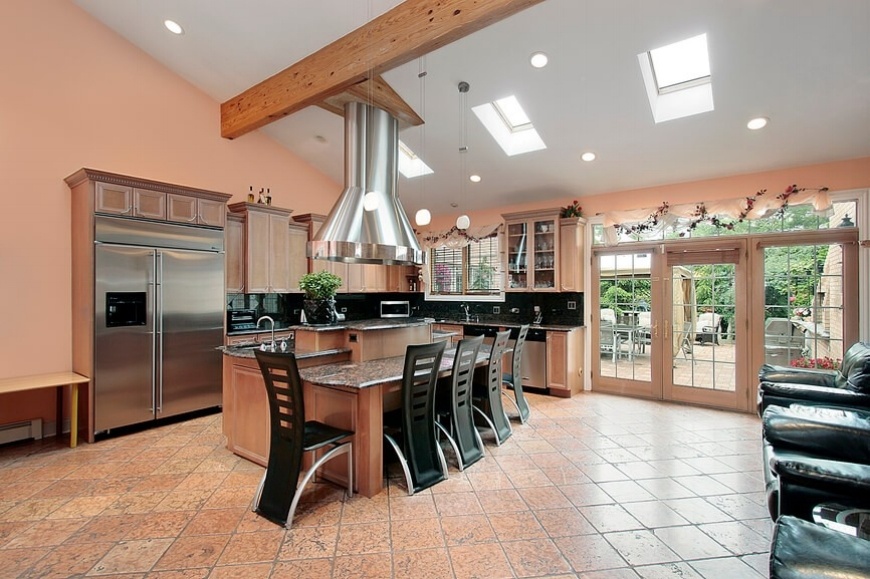 For a modern look, this kitchen uses a unique set of curved chairs and an attractive tile floor. Lined skylights in the angled ceiling pull light directly toward the main section of the room.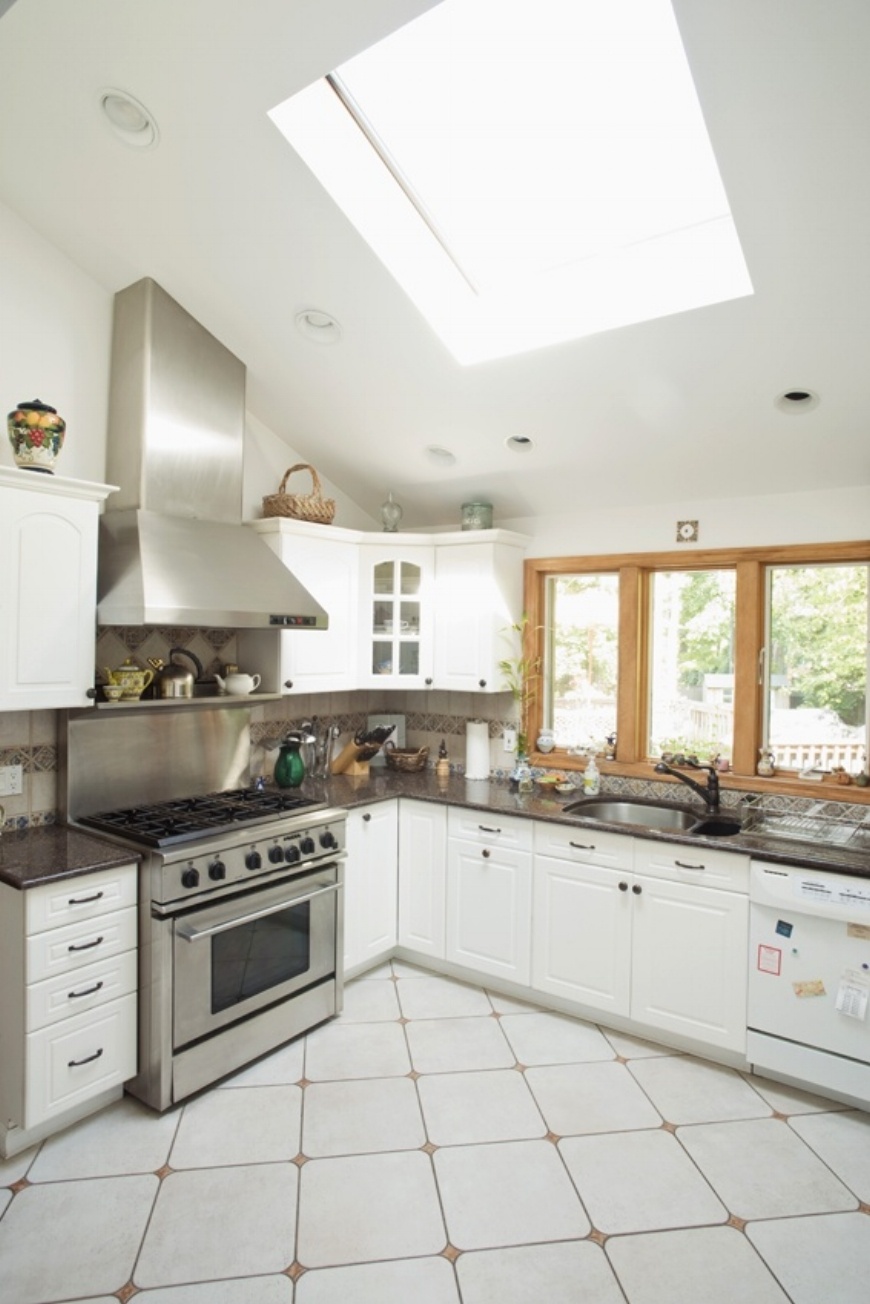 In this quaint, cute kitchen, a large skylight is used for illumination and helps to accentuate the hints of salmon hues in the floor.