The top choice of canopy systems for design professionals throughout the US? VELUX Commercial Horizon Series Canopies, of course!
The VELUX Commercial Horizon Series are translucent canopy systems constructed of multiwall polycarbonate panels that are as easy to install as they are aesthetically pleasing. Available in various panel colors and configurations, these systems are the superior design choice for canopies over shelters, entrances, and walkways.
Horizon C Series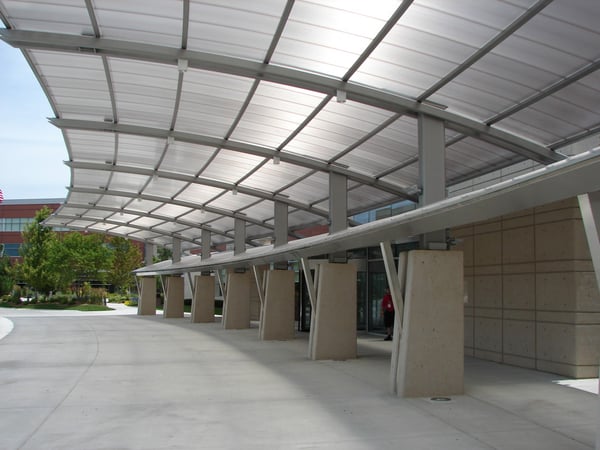 Ideal for shelters, entrances, and covered or enclosed walkways, the Horizon C Series is a polycarbonate panel system that provides an economical solution to any custom low-slope canopy design. These lightweight, impact-resistant, UV-protected polycarbonate panels are available in lengths up to 39" and with self-supporting aluminum framing systems. For a clean look, there are no exposed fasteners, gaskets, sealants, or horizontal joints; and fixed sills, adjustable sills, or skin systems are available to help complete your canopy project.
Horizon M Series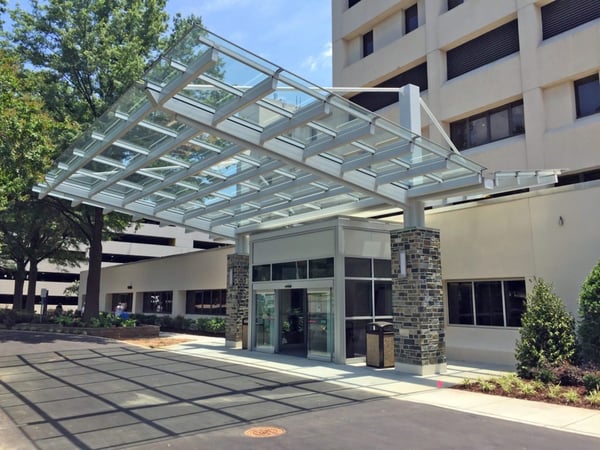 For the toughest canopy system around, look no further than the Horizon M Series. Engineered and reinforced with 3/8" polycarbonate panels, the M Series Canopy System has up to 250 times the impact strength of glass canopies. Most commonly used in hotels, conference centers, and education and healthcare buildings, M Series Canopies also feature an extruded aluminum edge guard at the ends and sides (as needed). Incredibly strong and completely customizable, Horizon M Series Canopies allow for completely unique designs.
Canopy Case Studies
Want to see VELUX Commercial Canopies in action? Check out these case studies featuring the Horizon Series.
Playland Ice Casino
The challenge: In 2012, Hurricane Sandy wreaked havoc on New York shores, which led to flooding and substantial damage to the Playland "Ice Casino." As part of the reconstruction efforts, the Casino's old wooden shingle roof needed to be replaced with a new standing seam metal roof. They also needed a better solution for the rubberized fabric perimeter, which provided very little natural light and was not energy efficient.
The solution: The Horizon C Series
Northland Workforce Training Center
The challenge: In this restoration project, the budget, historic preservation, and natural lighting all posed significant challenges. As a historic property, each new skylight replacement in the Northland Workforce Training Center needed to provide the same appearance and be approved by the New York State Historic Preservation Office and National Park Stations.
The solution: The Horizon C Series, Single Pitch and Double Pitch Skylights