It is safe to say all the companies featured in this article are financially stable and operate in very competitive industries. But when it comes to their amazing office environment, they all have one thing in common that even your cousin's garage-based company can utilize: an abundance of natural light.
With more and more working Americans heading back to the office, here are our picks for the top five office designs in the country.
Airbnb Headquarters, San Francisco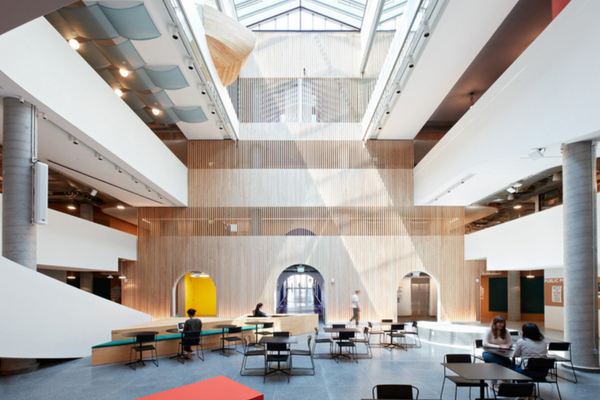 This massive 170,000 sqft office space serves as the global headquarters for Airbnb and is designed to accommodate nearly 200 employees.
Why this office made the list
Although not the first of its kind when it comes to size — there are certainly larger offices and warehouses around the country — this office space made our list due to its unique design concept that integrates the heart of the business into the office.
The Airbnb headquarters looks more like a home than an office. The office features different home designs from around the world, such as a houseboat from Norway, living rooms from Rio de Janeiro, Cairo, and Mumbai-themed cafes, a kitchen from Iceland, and even work and relaxation areas inspired by the founder's own apartments.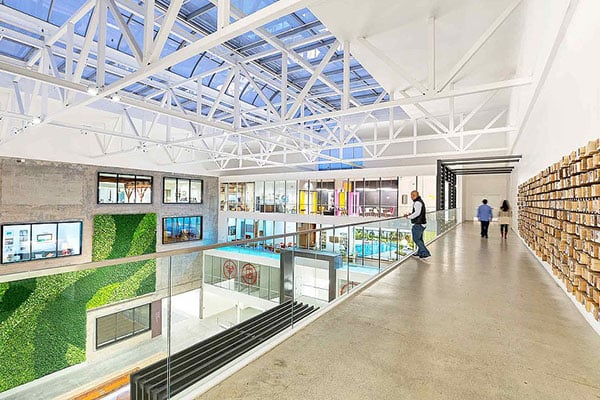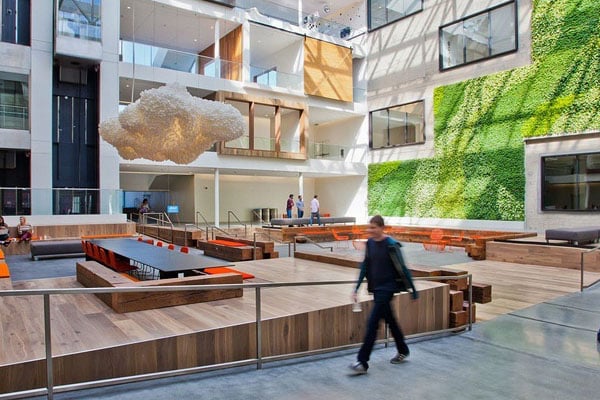 Location: San Franciso, California
Date Completed: 2017
Size: 170,000 sq. ft
Design: WRNS Studio, IDF Studio
Architecture: WRNS Studio, Gensler
Construction: Novo Construction
Apple Park Headquarters, Cupertino, California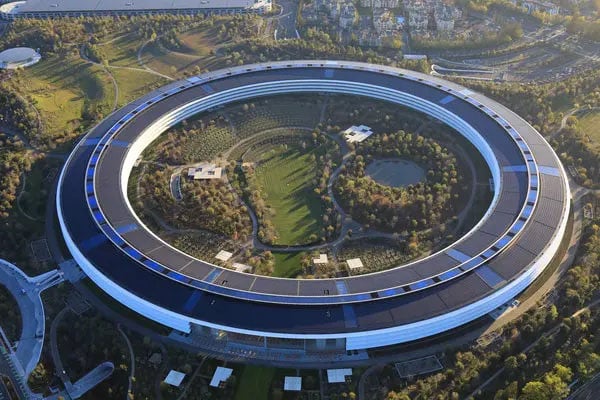 Located in the heart of the Santa Clara Valley, Apple Park can accommodate 13,000 employees on an enormous plot of land that spans over 176 acres.
Why this office made the list
Sure, Apple Park is big, but what struck us was its inclusion of the outdoors, massive amounts of green space, and dedication to sustainability.
Apple Park has 2km of walking paths, an orchard, a pond, 9,000 drought-resistant trees, and, to top it off, a 100-square-foot fitness center for employees to use. Not to mention, all of it is powered by 100 percent renewable energy.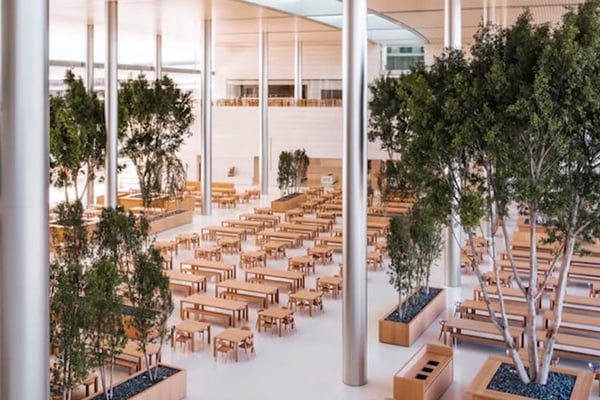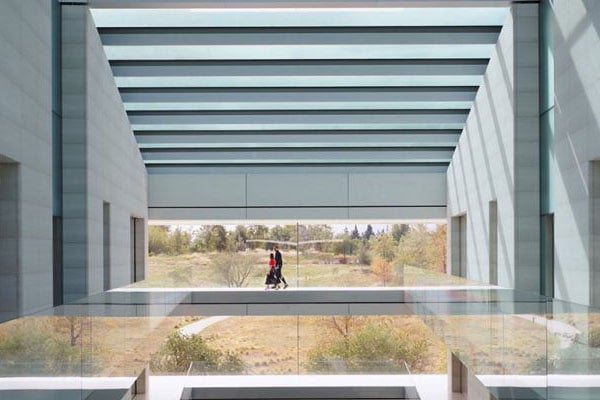 Location: Cupertino California
Date Completed: 2017
Size: 176 acres
Design: Foster + Partners
Construction: Skanska, Rudolph and Sletten, Holder Construction
TripAdvisor, Needham, Massachusetts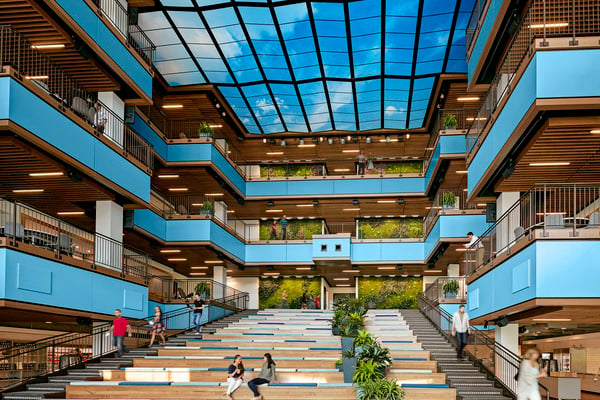 This 282,00 sq. ft. office is home to just under 4,500 employees and is located in the suburbs of Boston, in Norfolk County.
Why this office made the list
Great question! It's not the biggest on the list, and it's certainly not the greenest or most sustainable, but it is perhaps the most creative on the list. The beauty of this office is how well it incorporates its brand identity in its architecture. Each floor is designed to represent different continents and a passion for travel. The reception area has a world map with photos of thousands of TripAdvisor users, and the four-story courtyard includes its own version of the Spanish Steps in Rome.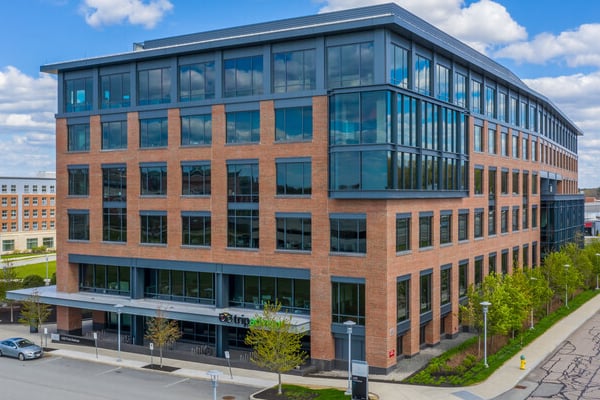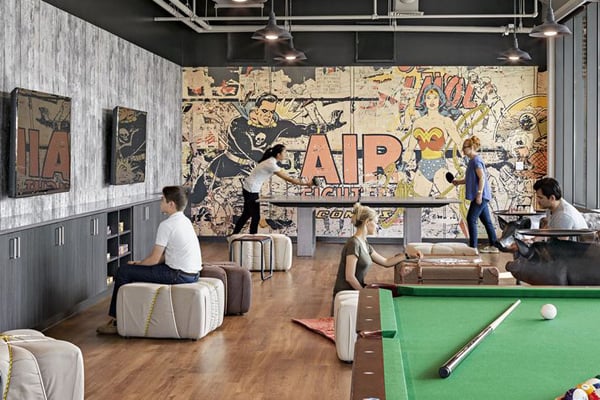 Location: Needham, Massachusetts
Date Completed: 2015
Size: 282,000 sq. ft
Design: Baker Design Group
Amazon Corporate Headquarters, Seattle, Washington
The delivery service/e-commerce/book/streaming/maybe medicine company has its corporate headquarters in Seattle where it all started. Just in Seattle alone, Amazon employs over 75,000 people with a headquarters of 3300 sq. ft.
Why this office made the list
Amazon Seattle made our list because of its bold exterior and even bolder interior.
The office consists of three interconnected glass domes built with 620 tons of steel. In contrast, the interior is designed with around 40,000 plants, resembling a rainforest. This greenhouse-like office space allows employees to meet in extraordinary treehouses, walk along plant-filled walkways, and enjoy natural light from the glass domes. While the massive three domes are open to the public year-round, only the garden floor is accessible to visitors.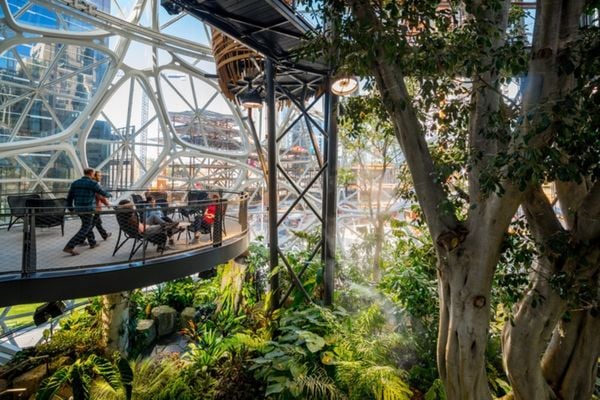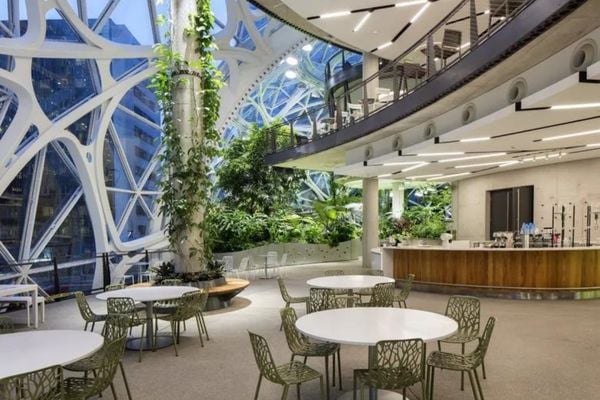 Location: Seattle, Washington
Date Completed: 2018
Size: 282,000 sq. ft
Design: NBBJ
LinkedIn, San Franciso, California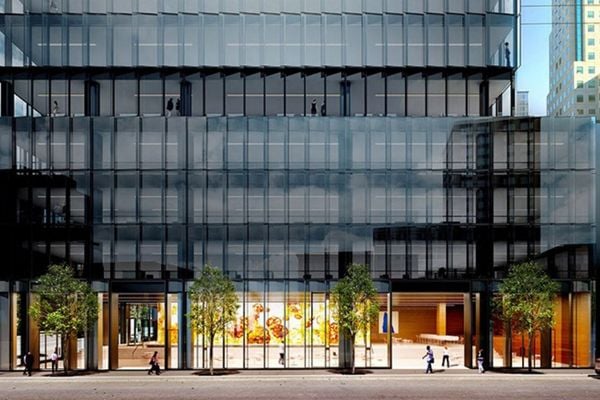 Over 200,000 workers report to this amazing 440,000-square-foot office space every day.
Why this office made the list
We were drawn to the office of social media giant LinkedIn for its structural adaptability and integration with the surrounding city. The office seamlessly blends the best qualities of San Francisco, featuring adjustable walls, various workstations, and multiple floors each with its own personality to accommodate all types of workers. With its inviting atmosphere, this office is as welcoming as they come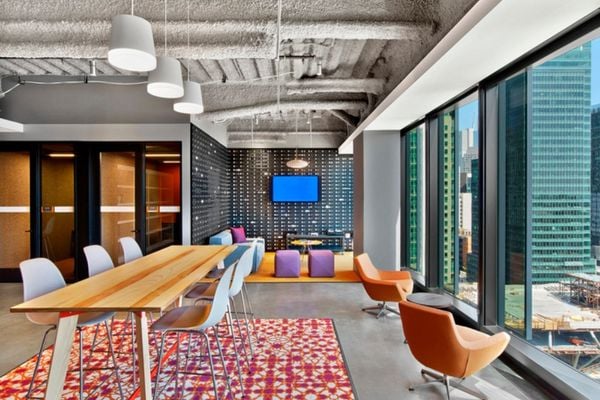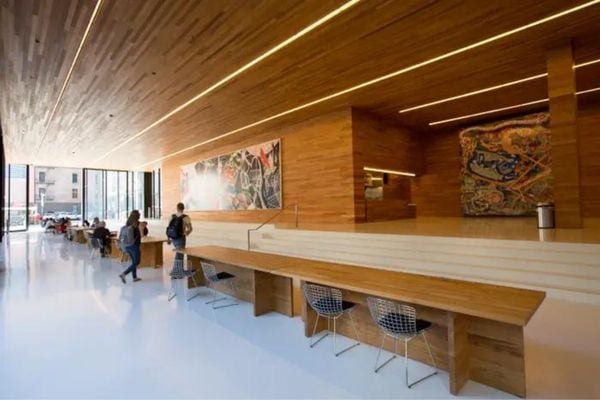 Location: San Fransisco, California
Date Completed: Leased by LinkedIn in 2014
Size: 440,000 sq. ft
Design: IA Interior Architects
Construction: Swinerton Builders
Why Natural Light?
It's worth noting that each of the amazing office spaces we've featured benefits from an abundance of natural light. While fluorescent lighting dominates many office spaces, manufacturing plants, and distribution centers, it simply can't compare to natural light in terms of efficiency.
Recent studies have shown that natural light can boost a person's energy by as much as 24%, and workplaces with abundant daylight have seen a decrease in absenteeism and an increase in productivity.
According to the National Commission on Sleep Disorders Research, businesses in the US lose more than $150 billion annually in productivity due to employee fatigue caused by a lack of daylight.
In other words, it's time to consider incorporating skylights into your office design!