How does a company keep their workers happy, productive and healthy? Possibly offering more days off work or expensive incentives and office perks? What if we told you there was a way companies could literally build these intangible benefits into their office building? That's exactly what Staff Zone decided to do when planning and innovating for their Roswell, GA headquarter redesign. After purchasing and completely gutting the historic, square-shaped building, concerns began to arise when daylight was severely lacking in the interior of the building.
Understanding the negative impacts of artificial lighting and a general lack of natural daylight, Sherri Harris, the CEO, and Sam Harris, COO, knew that they needed a solution for the office redesign to benefit their employees. They went to work on finding a way to bring natural daylight deep into the core of the building.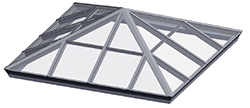 "People working inside a dark enclosed space feel confined. Natural daylight makes them more inclined to be in better moods, produce more work and just be happier," explains Sherri Harris, Staff Zone's CEO.
A report by the U.S. Department of Energy, Lockheed Martin, which began as a way to study energy reduction and lighting costs found an unplanned correlation. By adding more natural daylight to an office environment, researchers found an increase in employee productivity and a 15% drop in employee absenteeism. (See Eneref Report: Natural Daylight in Big-Box Retail Stores Boosts Consumer Sales.)
To balance building aesthetics and employee benefits, Staff Zone's CEO, Sherri Harris, and architect Josh Roland decided on a skylight system to cover the entire rooftop for light to cascade down into the building. "We decided on a large rooftop skylight because we know that natural lighting inspires a better work ethic," said Sherri Harris.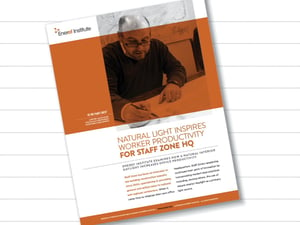 Joe Burton Company provided the VELUX Pinnacle Daylighting System and glazing to provide the right solution for a dim interior. From assembly to installation, the entire skylight solution took only four days.
"The first time that I walked in and saw the light, I loved it. It was so refreshing. I felt good immediately," said Ashley Guyer. "I just felt like it did something to my energy. I definitely feel like the natural light helps me to be more productive."
Read more about this innovative skylight solution and the effects it had on the building desig, installation, and employee morale in the Eneref Institute report, Natural Light Inspires Worker Productivity for Staff Zone HQ.
Have questions about how you can incorporate daylight into your commercial building? Let our team of experts help bring your design to life. Get in touch today.