Be our guest. If you're looking to inspire travelers and visitors with a comfortable place to visit, collaborate or stay for a few nights, try offering a healthy, authentic environment that truly brings the outdoors in.
Must-Have Hotel Accommodations: clean water, clean sheets and decent food, right? But something is missing. How about beauty? Natural elements? A comfortable environment? What better way to welcome your guests than with pure, abundant daylight that showcases the space and boosts the spirit of all who enter.
Creature Comforts For Today's Travelers
When we think of creature comforts, we don't often think of roughing it or camping out to be closer to nature. This is especially true when traveling for business or attending an educational conference with colleagues. With VELUX Commercial's broad portfolio of daylighting solutions, it's easy to showcase nature (albeit in a dry, comfortable space) by bringing natural light in from above. Skylights illuminate a hotel or conference center to showcase the beautiful surroundings and lift the eyes (and the spirits) for weary travelers who need to reconnect with nature.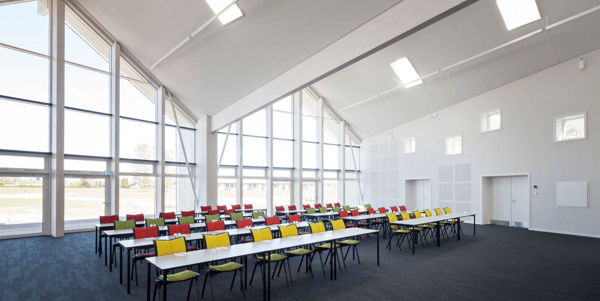 Incorporating more daylight into hotels and conference rooms is vital for guests, staff and visitors. More daylight means less anxiety, stress and depression when occupants are spending time away from the comforts of home.
4 Reasons Daylight is Essential For Guest's Accommodations
Build a space that promotes a healthy circadian rhythm to help travelers acclimate body clocks and adjust properly.

Increase daylight availability for improved productivity and focus for building occupants (guests and staff, too!).

Brighten a building to make meeting spaces more engaging and memorable for better collaboration.

Increase energy efficiency by decreasing the need for electric lighting and strain on heating and cooling systems with natural ventilation and automated shades.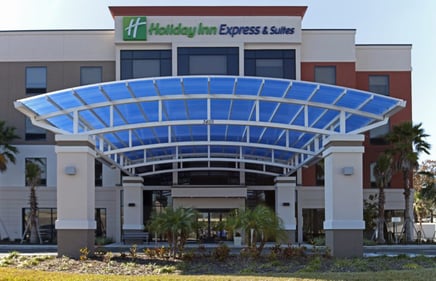 With natural daylight from above, hotel and conference centers transform into lighter and brighter gathering places, promoting a sense of wellbeing and positive outlook for all. Daylight not only benefits a building's aesthetics, but it inspires, welcomes and transforms a space into a bright and comforting home-away-from-home for a memorable stay.
Looking for more? Get inspired with the VELUX Commercial gallery to see how our daylighting solutions can transform any space into a lighter, healthier space.