The Northland Workforce Training Center is located in an old factory, formerly known as Niagara Machine & Tool Works, in Buffalo, New York. Originally built and in use from 1910-1918, the site is listed on the State and National Registers of Historic Places.
As part of an urban redevelopment project, the state of New York renovated the century-old, 235,000-square-foot industrial spaces to house the Northland Workforce Training Center, Buffalo Manufacturing Works, and other tenants.
Now before we dive into the case study, here's who's running the renovation show:
Architecture/Design: Watts Architecture & Engineering
Preservation Architect: Barbara A. Campagna/Architecture & Planning, PLLC
NWTC Project Management:

R.E. Krug Corporation
Sales Rep: RISE Architectural Sales
The Challenge
This particular project posed budget, natural lighting, and historic preservation challenges. Here's what the team of architects and engineers were looking at:
A full renovation of the building for modern educational standards, including better energy efficiency and climate control for the building
Replacing the 22 original skylights centered over the factory floor which, according to preservation architect Barbara Campagna, contained caulking and glazing that had been classified as containing hazardous material
Ensuring each new skylight provide the same appearance as the old skylights to the satisfaction of the New York State Historic Preservation Office and National Park Service
A publicly-funded — and therefore tight — budget
The Solution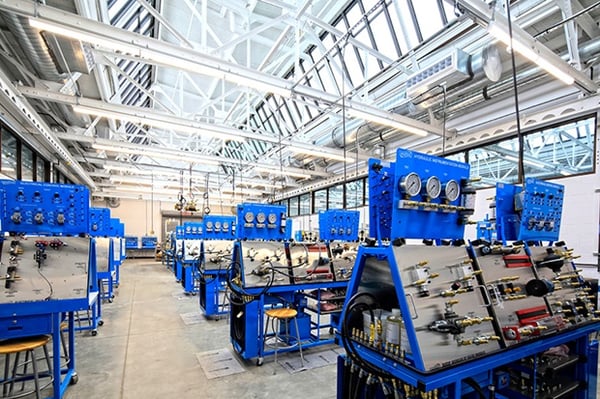 VELUX engineering and project management teams worked with the training center's architectural team to develop a custom plan to meet historic criteria, including a modified low-profile extrusion for phase one and dies to replicate the extrusions for phase two. The design was reviewed and approved by the National Park Services for historic compliance.
To improve temperature control and future cost savings, the VELUX Wells team assisted with glazing recommendations. Since the south-facing skylights receive the most direct sunlight of the day, they're glazed with Solarban® 90 glass to reduce solar heat gain while boosting visible light transmittance. Receiving less direct sunlight, the northern-facing skylights are glazed with the highly efficient, but more economical, Solarban® 60.
Elsewhere in the project, a Horizon C-Series canopy system was installed in a drop ceiling to allow for better climate control while still letting in abundant natural light. A lightweight, high-impact resistant 20mm multiwall polycarbonate is installed on the trusses in a clear finish.
Products Used & Specifications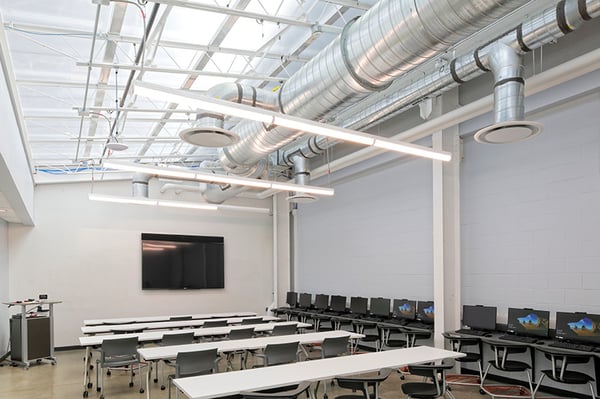 The products and specifications used for this project were:
Read more about this case study and get inspired by other commercial case studies on our website!