At VELUX, it's our mission to be able to provide everything you need related to skylights, including the inspiration for incorporating innovative daylighting systems into your commercial projects.
If you've taken on a project and are encountering some daylighting roadblocks you weren't expecting, or if you just need some inspiration for future projects, VELUX has provided a list of case studies for you to peruse.
From skylight replacements to new cut-ins, there's a case study to help with almost every project you come across. And before you do a deep dive into all the case studies we have available, check out these five examples of how VELUX skylights can make a huge impact on commercial projects.
Case Study: US Ironworks Headquarters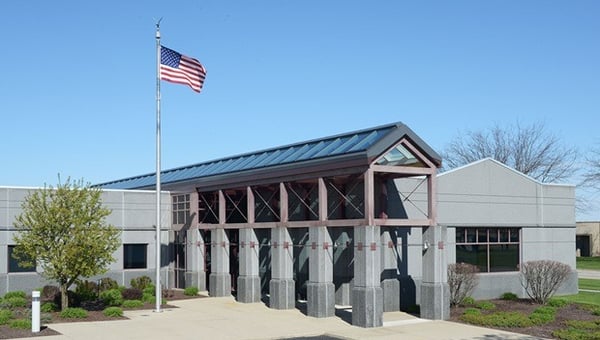 The location: Ohio
The problem: Two large, translucent panel systems, made up of two-tone colored panels that had failed and been replaced over the years, needed a serious upgrade.
The solution: 2 VELUX VMS modular structural Ridgelights on site, totaling 94 units. The first Ridgelight is made up of 64 fixed modules and 2 narrower fixed modules, extending nearly 108 feet long and 11 feet across. The second, smaller Ridgelight, which provides top lighting for interior offices, consists of 30 fixed skylight modules and spans an area of 50 feet by 9 feet.
Thanks to the flexibility of VELUX standard module sizing, the steel curbs and framing of the old system could be used to avoid manufacturing custom-sized framing, saving the customer a lot of money.
Read the full US Ironworks Facility case study here.
Case Study: Cornell University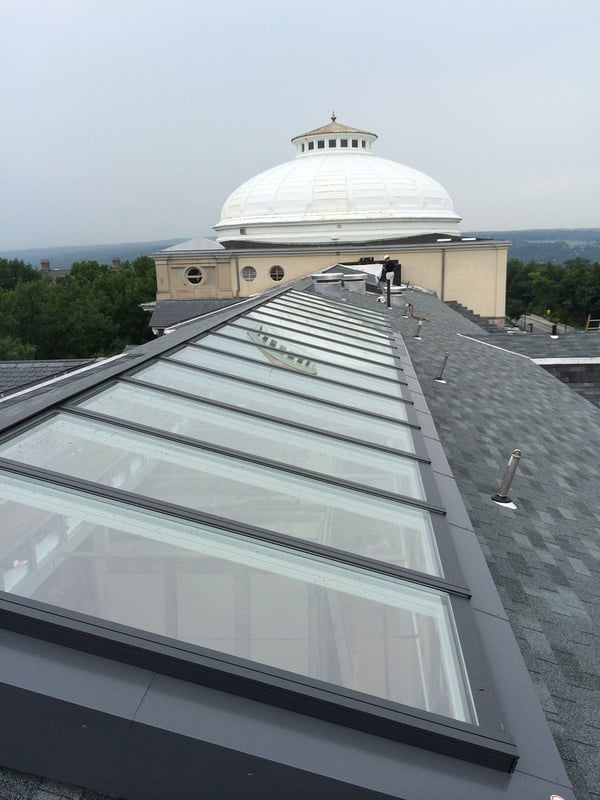 The location: Ithaca, NY
The problem: Two decades-old skylights had frosted over and faded on top of this building constructed in the late 1800s. There was a significant reduction in daylight coming through them, and the exterior steel frame was in extremely poor condition, causing leaks.
The solution: A VELUX custom-designed, pre-engineered, all-in-one modular skylight system that literally snapped together in six module sizes and configurations. All six designs were made with LowE3 tempered glass and, to reduce thermal transfer, utilized a proprietary-pultruded fiberglass polyurethane frame.
Read the full Cornell University case study here.
Case Study: YMCA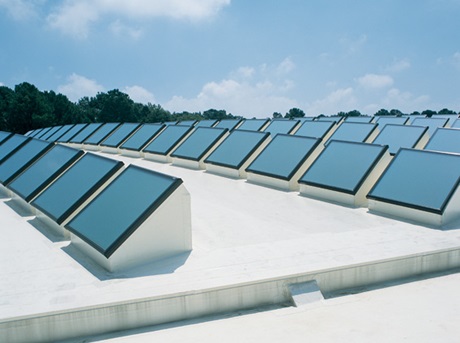 The location: Atlanta, GA
The problem: Incorporating lighting that was both energy-efficient and offered a high quality of light.
The solution: Curb system roof monitors with FCM curb-mounted fixed skylights and white laminated glass. With the roof monitors, a balanced natural lighting environment is seamlessly achieved by bringing daylight through a glazing system, then diffusing the light as it bounces against the back of the roof monitor to provide a visually comfortable environment below.
Read the full YMCA case study here.
Case Study: Cermak Fresh Market at The Fields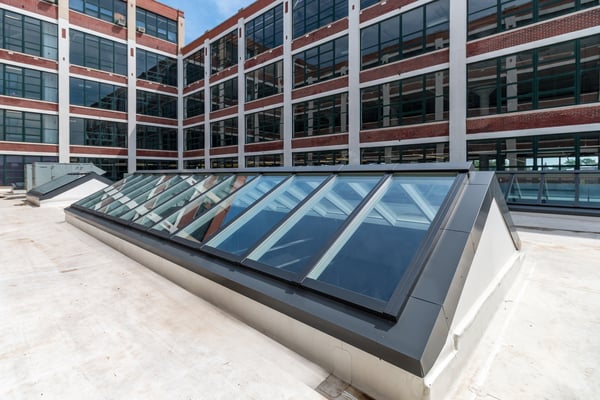 The location: Chicago, IL
The problem: Sandwiched between two 5-story sections of the building, this ground-level complex already had limited access to sky views. On top of that, the original skylights were discolored, rusted, had broken seals, and inefficient, both energy-wise and due to their hand-crank functionality.
The solution: Two VELUX Modular Skylights to incorporate natural light into the space on time and on budget. Four existing ridge-style skylights were replaced with VELUX Ridgelights 25-40, and an old, single-slope skylight was replaced with a VELUX Longlight. And because the VMS products are so adaptable, the mid-winter installation took no time at all!
Read the full Cermak Fresh Market case study here.
Case Study: Sparrows Point Terminal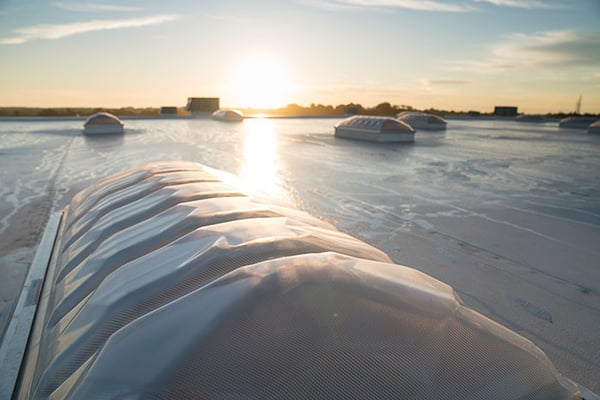 The location: Baltimore, MD
The problem: This distribution center in Baltimore, the former home to Pennsylvania Steel and Bethlehem Steel, specified a single 20-year warranty for the roofing system and skylights when they began their transformation. They also required roofing, skylight, and lighting systems that could contribute points toward LEED Silver certification on a strict deadline.
The solution: The VELUX Dynamic Dome! Through Logistics Lighting, a national commercial and industrial skylight distributor, we were able to offer an exclusive 20-year warranty on the Dynamic Dome, exceeding the standard VELUX warranty by 5 years. Two 10-person crews were able to install the roof membrane and 276 Dynamic Domes in just 35 days, and the domes now work in tandem with the automated LED lighting system to provide continual lighting throughout the day while helping save on costs.
Read the full Sparrows Point Terminal case study here.
For a complete list of available VELUX commercial case studies, check out our website!