The historic Beaumont Mill is deeply rooted in the city of Spartanburg, SC. Producing cotton textiles from 1890, two large brick buildings were constructed and connected, creating one massive manufacturing facility.

Closed in 1997, community residents rallied to preserve and renovate this historic building. The Spartanburg Regional Healthcare System took up the effort and decided to renovate the building to house their administrative departments, which previously were located in separate buildings around the city.
"We worked to preserve the integrity of this historic building by including the original floors, exterior brick and expansive windows," said Ken Meinke, Spartanburg Regional Healthcare System's Chief Financial Officer. "The mill's long history was incorporated into the renovations and we have historic photos and items displayed in the building."


Bringing Daylight to a Deep, Dark Space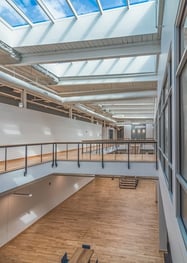 "From an architectural perspective, being a corporate office and knowing that people would be in the building for long hours, we were concerned about daylight," said Sara Robinson, the architect with McMillan Pazdan Smith Architecture, who oversaw the project. "Light from windows along the exterior wall didn't penetrate very deep."
The architects knew skylights would be an ideal solution both on a functional and a symbolic level by placing them in the roof over the space that connected the two original buildings.

"We made the joining space a central hub defined by natural light from the skylights," Robinson said. "We symbolically divided the space to reference the original two buildings and by cutting light wells in the second floor, daylight extends all the way to the ground floor."

Interior walls have storefront windows, allowing light from the skylights to cascade into adjacent offices.
90 Modular Skylights Installed in Just Two Days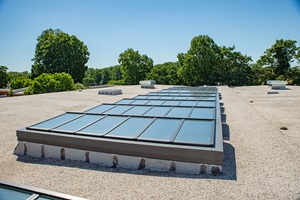 The VELUX Modular Skylight system was the most cost-effective skylight solution for the project in terms of price, labor and time needed for installation. The architects were able to use a standard size skylight unit, rather than special ordering custom units, even though the former mill building has somewhat irregular roof structure dimensions.
JP Ross & Co. installed 90 skylight units on pre-built curbs in just five hours. On the second day of the installation only two people were needed to attach claddings and flashings.

"With their plug-and-play installation method, VELUX has found a way to significantly increase the speed of installation without jeopardizing the integrity of the overall system," said Jason Peterson with JP Ross & Co. "Using VMS drastically decreases the cost of installing a structural skylight system."

Traditional, site-built skylights would have taken at least two weeks to install. Using the VMS system resulted in a clean look with 15 rows of six skylight units each running lengthwise down the center of the roof.


An Uplifting Workspace
Today, the renovated mill showcases a central corridor that greets guests and employees with abundant, natural daylight from above. The open space has transformed from one that previously required phone calls and emails to a new, unified space that creates collaboration and synergy across the departments.

"The building was designed with light and open gathering spots in mind," said Ken Meinke, Spartanburg Regional Healthcare System's Chief Financial Officer. "When working with the architects, we wanted to retain the charm and historic feel of the building, but also make it bright for our associates working here so they would feel a sense of community as they worked."

Want to see more? See other case studies or watch the below video to see how Vannoy Construction brought this project together.