At this year's Architects' Darling Award ceremony, VELUX was awarded with the Golden Phoenix trophy within the category of "Rooflight / Daylight systems".
VELUX Modular Skylights (VMS) offer architectural elegance and beauty by incorporating light and nature into interior spaces. This unique skylight solution embodies the strong VELUX heritage of passion for daylight and fresh air, combined with superior product quality and concern for people and the planet. These revolutionary modular skylights support fast and streamlined design. Likewise, VMS skylights are completely prefabricated and composed of flashing, insulation and blinds that enable fast and easy installation. Besides being among the winners of the Golden Phoenix trophy, VELUX was further awarded with a bronze prize for the "Best Company Film".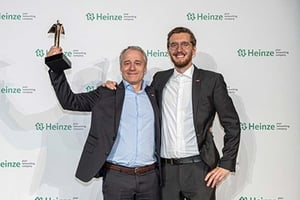 "We are very happy and proud to have been awarded with the prize for the third time in the category of daylight systems. This is a great display of trust by architects and planners as well as a huge compliment for our entire team" says Henrik Mosegaard-Johansen, Director of Architectural Glazing, VELUX Commercial.
Since 2011 when the Architects' Darling Award was first given out, architects and planners have selected their favorites within the building industry. An industry survey forms the basis for the award. This year more than 2000 architects and planners selected winners in 25 product categories. A team of media and communication experts and representatives of well-known architecture firms evaluated the 12 jury awards.
Take a look at the "Best Company Film" below, which took home the Bronze award in the category.

Read more about the Architects' Darling Award and the winners of 2019.