With new technology and product evolution happening across every industry, it's no wonder architects and builders are looking to incorporate smart technology into their commercial daylighting designs. Did you know that research shows indoor air is up to five times more polluted than outdoor air?

It's time we design our built-environments to take full advantage of today's smart technology to boost aesthetics as well as occupants' health and wellness.
As 90% of our time is spent indoors, VELUX Commercial is committed to helping bring natural ventilation and abundant daylight into the forefront of building design, by incorporating advanced automation and daylighting innovation. With a focus on sustainability, health and well-being, VELUX Commercial is revolutionizing the daylighting industry with new skylight technology and materials that not only automate, but improve, daylight and fresh air availability.
Read how these 5 innovations in daylighting are helping maximize sunlight to increase occupant well-being and productivity.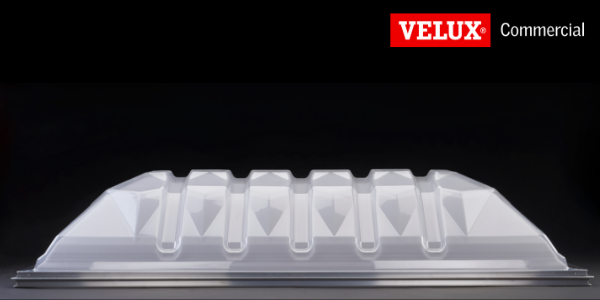 1. Daylight Harvesting
As summer comes to a close and we look forward to cooler months ahead, our time indoors increases, leaving us with less and less natural daylight exposure. Incorporating more natural daylight into built-environments is key to increased health and wellbeing, while also minimizing energy expenses.
Innovations in daylight harvesting have changed how we think of available daylight. With the revolutionary design of the VELUX Dynamic Dome, commercial spaces can now harvest additional sun rays that would typically pass over a building. The advanced geometric pattern of ridges and ribs off a flat wall to the sun when it's at low angles, allowing the Dynamic Dome to capture and transmit light to a building that would typically bounce off. Product simulations have shown these commercial dome skylights harvest up to 56 more minutes of additional sunlight per day, for a potential yearly lighting savings of up to 340 hours.
2. Smart, Automated Technology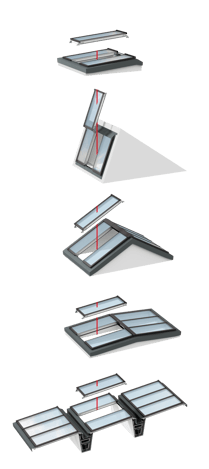 With so many business operations to worry about, daylight and fresh air availability shouldn't be one. Continuing to push the boundaries on innovative daylighting technologies, VELUX Modular Skylights operate with an intelligent, programmable control system that can even detect and close the modules in the case of rain or strong winds.
Need to set a daily program that controls heat gain and glare? These innovative module skylights are capable of including a fully-integrated chain actuator that automatically opens and ventilates a space, for a comfortable indoor climate. By offering automatic or solar-powered ventilation units, hot air that naturally accumulates near the ceiling, can be expelled to keep the interior temperature cooler. These modular "fresh air" skylights can also offer smart roller blinds that can even be programmed to respond to luminosity or temperature, eliminating glare and reducing heat gain.
3. Calculated Energy Savings
One MIT study estimates that between 25% and 40% of energy expenditure comes from lighting. "Depending on the building and how it's used, a good daylighting strategy can reduce the need for energy-consuming electric lighting by 20% to 80%," says Dr. Marilyne Andersen of MIT's department of architecture. VELUX Commercial is committed to helping design sustainable buildings with eco-friendly solutions and innovative materials that reduce energy costs by incorporating more natural daylight.
With shifting government regulations and building codes, it can seem overwhelming to "go green" in commercial spaces these days. However, we know that installing commercial skylights actually reduces the amount of energy a building consumes, across both electric lighting as well as HVAC expenses in many climates. By reducing energy costs, a building is able to achieve immediate and long-term cost savings. VELUX Commercial utilizes cutting-edge technology that incorporates the sun as an integral part of a building's lighting strategy. With a design team that focuses on passive solar building design, daylighting solutions are carefully calculated to optimize energy expenditures by looking at the total number, material structure and placement of skylights for maximum skylight performance and energy efficiency.
4. Cutting-Edge Materials
Placement and design are vital to energy savings and sustainability efforts, but so are the actual materials used within any daylighting structure. VELUX Commercial has incorporated advanced glazing technologies and thermal insulation to provide superior aesthetics with unbeatable performance.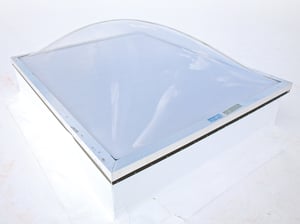 Not only glass and acrylic, but new skylight glazing and structural components have improved the impact resistance and UV performance within commercial daylighting structures. Utilizing multiwall polycarbonate panels versus standard glass or acrylic has allowed for superior strength and UV protection (without discoloration or unsightly yellowing side effects) while offering industry-leading thermal performance. To achieve best in class insulation, VELUX skylights have utilized aerogel technology. Lumira® Aerogel is an eco-friendly insulation that repels water, retains properties under compression, reduces sound and vibration transmission and provides beautifully diffused daylight to be used in a variety of daylighting applications. This revolutionary material improves the quality of light and design flexibility without compromising design or aesthetics.
5. Advanced Glazing
How about skylights that change with the flip of a switch? Sound too good to be true or like something out of a science fiction novel? VELUX Commercial offers Electrochromic Glass (or smart glass) that electronically tints glass to switch from clear to dark with the click of a button. What's even better? This is just one example of VELUX Commercial's advanced glazing technologies that can even be programmed to respond to changing sunlight and heat conditions for complete climate control year-round.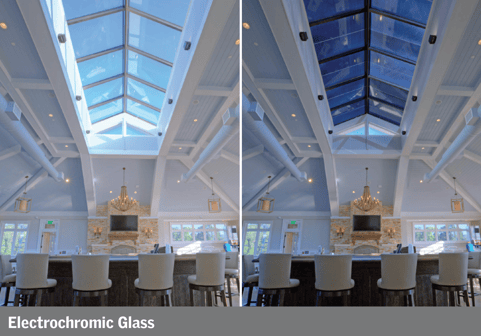 By incorporating innovations in daylighting design, the built-environment can become more sustainable through technology and automation for a healthier, happier place to learn, work and recover. VELUX Commercial is deeply committed to providing superior daylighting solutions that offer more features and functionalities to truly bring light to life.