Embrace the Replace. Find out how to reuse, reduce and replace skylights to transform any commercial renovation.
Let's take a trip back to the 1980s and early 90s, when commercial construction was booming, creating a massive supply of commercial space that included new, daylighting designs that created state-of-the-art facilities. What a time that was, am I right?! Now, let's fast forward to these same buildings today. What once was shiny and new has now become delaminated, yellowing or worse—leaking.
Reuse, Reduce and Replace Your Skylights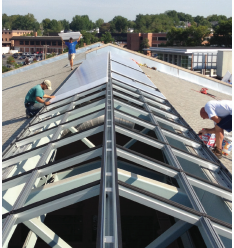 One of the quickest and easiest ways to give these aging buildings the design face-lift they desperately need is by replacing skylights with newer, brighter and energy-efficient skylights. No need to recreate the wheel, though. VELUX Commercial is able to reuse, reduce and replace with various daylighting materials. Offering both customizable and standard, out-of-the-box daylighting solutions breathes new life into renovated spaces.
Replacing old skylights with new, VELUX Commercial daylighting options is a great way to increase your profits, as well as job quality. Let's talk about three ways to reuse daylighting structural components, reduce installation time and replace old roofing and skylights with state-of-the-art skylights.
REUSE.
Reuse existing structural components wherever possible. Dingy skylights that leak after a few years discredit the quality of your work. You can reuse structural components from previous skylights with VELUX Commercial's custom-made daylighting solutions. Updated technology and materials ensure replacement skylights are more durable, energy efficient and visually appealing. Best part? We offer industry-leading warranties to ensure your renovation remains time-tested with the best materials and skylight performance.

REDUCE.
Reduce time with a fast installation and products that last. VELUX Modular Skylights can be installed 3 times faster with clamps, brackets, click-on flashing and cladding that don't require more than a few minutes. Under a tight timeline for installation? These innovative skylights have you covered.

REPLACE.
Replace existing skylights with a clear view to the outside while limiting excessive heat gain. VELUX Commercial offers superior impact resistance and energy-efficiency with advanced materials that won't yellow and deteriorate overtime. Give your project durability and pure, natural daylight to provide an indoor climate that fosters users' health and well-being.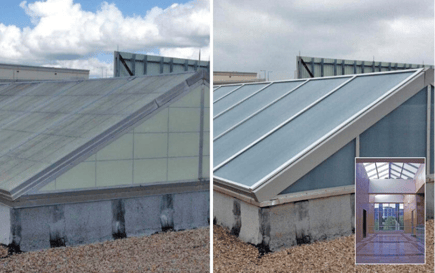 Want to learn more about replacing old, dilapidated skylights? Check out the case studies below or contact VELUX Commercial for more information on how we can help bring your renovation (back) to life.