We talk skylights a lot at VELUX, but what about those other guys, the roof windows? What's their deal and when should you install them? Roof windows are best installed in bonus rooms, attic spaces, or anywhere the roof is in reach. As for what each one's deal is, you'll have to read on to find out!
Top-Hinged Roof Window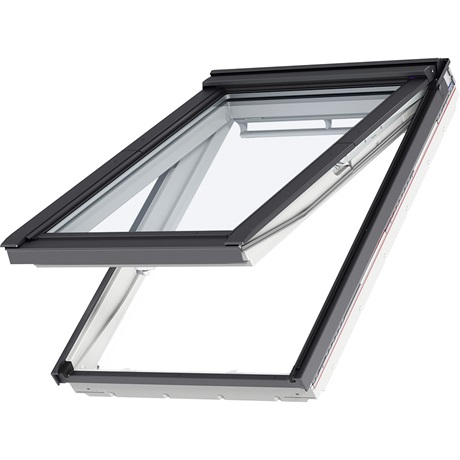 A classic model, VELUX's Top-Hinged Roof Window is easy to operate even with furniture placed directly under it. Its convenient bottom operation makes it the perfect choice for loft conversions where the windows will be installed in easy reach. And its innovative top control bar allows you to install the window lower to get an excellent view, whether standing or seated.
The Top-Hinged Roof Window utilizes VELUX ThermoTechnology™ to provide excellent energy efficiency, insulation, and an airtight seal and is compatible with multiple styles of blinds.
Center-Pivot Roof Window
Available only as a special order, VELUX Center-Pivot Roof Windows are ideal for rooms with high humidity but fit nicely in any room because of their contemporary look. The top control bar allows homeowners to pull it once for background ventilation and twice to open the window and rotate it 180 degrees. The Center-Pivot Roof Window also utilizes VELUX ThermoTechnology™ and can accommodate multiple VELUX blind options.
Roof Access Roof Window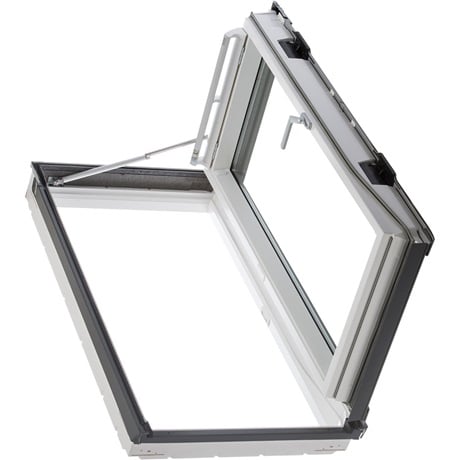 Whether your homeowner needs easy roof access for repairs, maintenance, or emergency and egress, the VELUX Roof Access Roof Window is your go-to. A convenient locking device keeps the sash in its open position, and it also features a ventilation flap for when roof access isn't necessary. With a slim sash and frame appearance, it looks sleek against any roofline and can be installed as a left-hinged or right-hinged window.
CABRIO Roof Window/Balcony
For extra daylight as well as a panoramic view, the VELUX CABRIO® is part roof window, part balcony. It opens in seconds to give any loft space a place in the sun. The top half opens like a traditional roof window, while the bottom section unfolds into a glazed balcony with side railings. And for added convenience, the CABRIO fits flush with the roof when closed.
You can find drawings and specs for all VELUX Roof Windows in the professionals' tools section of our website.