When installed correctly, a VELUX skylight, roof window, or sun tunnel can provide natural light throughout the homes you build for years to come.
Backed by the most extensive warranty in the industry, VELUX skylights are put through rigorous tests and built to the highest standards to ensure a long-lasting product for your homeowners and an easy installation for you. When installed with our flashing kits, VELUX skylights are guaranteed not to leak. That's our promise and an assurance you can pass along to homeowners who may be hesitant about installing skylights.
Where to Find Installation Instructions
All VELUX products come with simple, step-by-step illustrated instructions for installation. PDF versions of the instructions are also available to download on our website. Just go to www.veluxusa.com and select the "Professional" link beside our logo at the top. From there, click Tools, then Architects, then Drawings and specifications under Technical Info.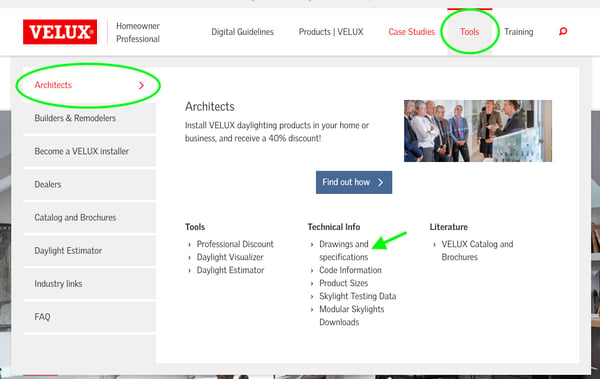 Find the product you're installing and beneath it will be a series of links to installation instructions and other specifications and guides.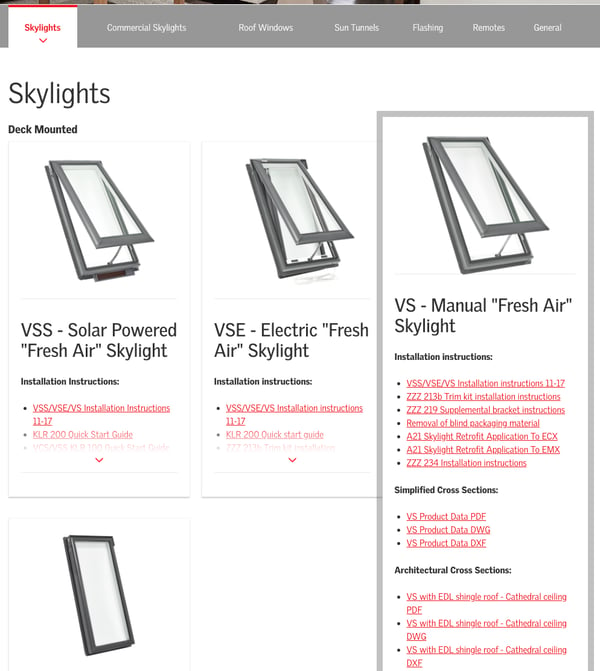 As you can see in the screen above, you can find information about our residential and commercial skylights, as well as roof windows, sun tunnels, flashing systems, remotes, and accessories, all from this page.
Installation Videos
If you're more of a visual learner, you can also take advantage of our installation videos. You can get to them through our Professional website as well: click Training from the top menu, then the link for Installation Instructions under the Skylight Installation Help tab.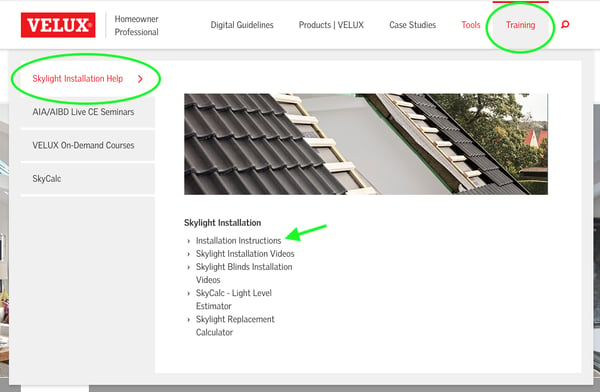 Here you'll find installation videos for our deck- and curb-mounted skylights, sun tunnels, and the CABRIO Balcony. We've also got installation videos for our blinds and the blind adapter kit, as well as remote control set up and metal roof flashing installation.
If you're interested in replacement parts or need further assistance, don't hesitate to reach out to your VELUX rep or contact our customer service department at 1-800-888-3589.