Designed with architects in mind, VELUX Modular Skylight (VMS) systems let you spend more time designing solutions and less time specifying. Able to be combined in a number of rooflight configurations, VMS create perfect solutions for a wide variety of building types, including narrow corridors, internal courts, studios, large circulation spaces, and much more. And for simple installation, each roof glazing solution is delivered with a special prefabricated flashing to ensure a perfect fit and 100% water tightness.
VMS Longlight
The VMS Longlight is a single series of modular skylights that provides stunning lighting conditions to large rooms, corridors, and hallways. With a characteristic low-pitch design, the Longlight is right at home on flat roofs and other areas where a subtle expression is preferred. Learn more and see specs for the VMS Longlight.
VMS Wall-Mounted Longlight
VMS Wall-mounted Longlights are, as the name suggests, modular skylights that are mounted against a vertical wall. Since this model isn't limited by the placement of the skylights, it opens up a new range of design possibilities. The skylight modules are supplied with installation brackets and clamps, so a fast and secure installation is always guaranteed. Learn more and see specs for the VMS Wall-mounted Longlight.
VMS Northlight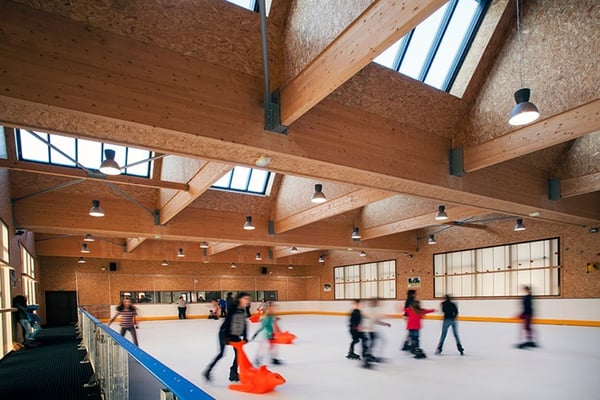 VMS Northlights are made up of modular skylights that are raised so sunlight can reach the rooms below. The unique upright design makes it ideal for installations directed towards the northern hemisphere for soft, reflected light. Northlights are ideal for galleries, museums, schools, offices, and industrial facilities, anywhere where direct glare is unwanted. Learn more and see specs for the VMS Northlight.
VMS Ridgelight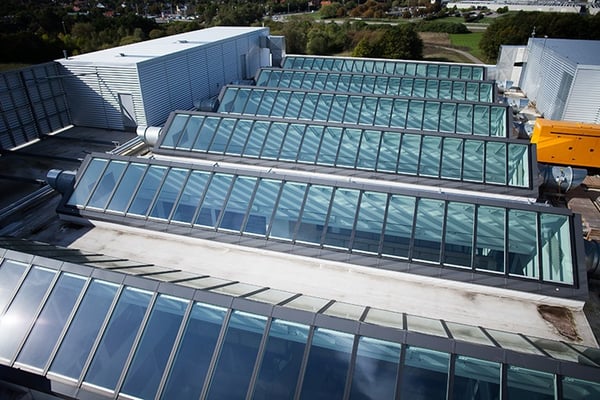 The VMS Ridgelight is a classic solution that consists of two rows of self-supporting skylights. By placing two rooflights flush against each other, the building can take advantage of more daylight while creating a feeling of symmetry. For a fast installation and safe, economical building, the Ridgelight is mounted on standard steel profiles. It's recommended you use a steel or concrete sub-construction when mounting a Ridgelight. Learn more and see specs for the VMS Ridgelight.
VMS Ridgelight with Beam
The VMS Ridgelight with Beam is the perfect solution for circulation spaces, gallery spaces, and other areas where people meet to chat and relax. This version of the Ridgelight is mounted on a rail system that guarantees fast installation, as well as a safe, economical building process. Its discreet support beams help create the illusion of a glass roof, and it can only be installed at a 5° pitch. Learn more and see specs for the VMS Ridgelight with Beam.
VMS Atrium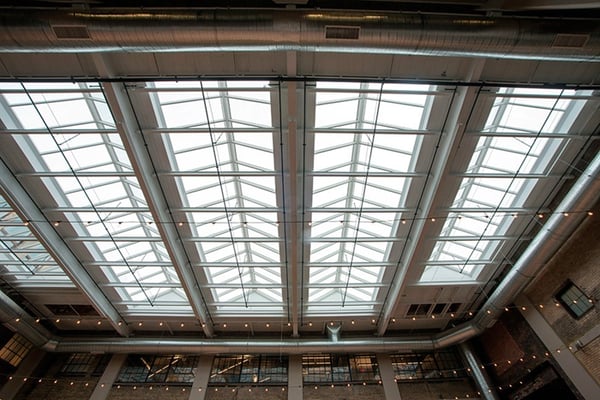 VMS Atrium solutions consist of multiple rows of ridgelights or longlights, supported only by structural beams. Together, they form large, glazed areas of identical-looking venting and fixed units. Designing your building with an Atrium longlight or ridgelight solution will help you benefit from all the functionalities offered by VMS systems, including integrated chain actuators, blinds, and low pitch. Learn more and see specs for the VMS Atrium.
The Modular Advantage
VMS systems deliver all the benefits of modularity to rooflights and glazing before, during, and after specification. VMS are 100% prefabricated, and from glass quality to motor power and speed, they're designed to work as a single system from the moment they're made.
Incorporate more daylight and fresh air into your commercial designs easily with VMS systems. Simply find the rooflight style that matches your needs, and download the CAD/BIM tools for your software of choice to start designing your system today!
Or if you have any questions before you get started with VMS, contact your local VELUX sales rep or our customer service center at 1-800-888-3589 to learn more.