It's time for another edition of VELUX Product Spotlight! Today, we're shining the light on (or down) VELUX Sun Tunnel® Skylights!
"Sun Tunnel" is VELUX's name for our solar daylight tubes or sun tubes. Comprised of a light-collecting dome, rigid or flexible tunnel, and interior light diffuser, VELUX Sun Tunnels® are a unique daylighting solution for residential and commercial applications.
VELUX Residential Sun Tunnel® Skylights
VELUX Sun Tunnel® Skylights for residential applications are designed to provide natural light into every room of the house — even rooms where traditional skylights or vertical windows may not fit. Additionally, they're available with a variety of light-collecting dome styles and in rigid and flexible tunnel options, making them our most versatile daylighting product. They're also our most budget-friendly product, opening up the option for more natural light in more homes.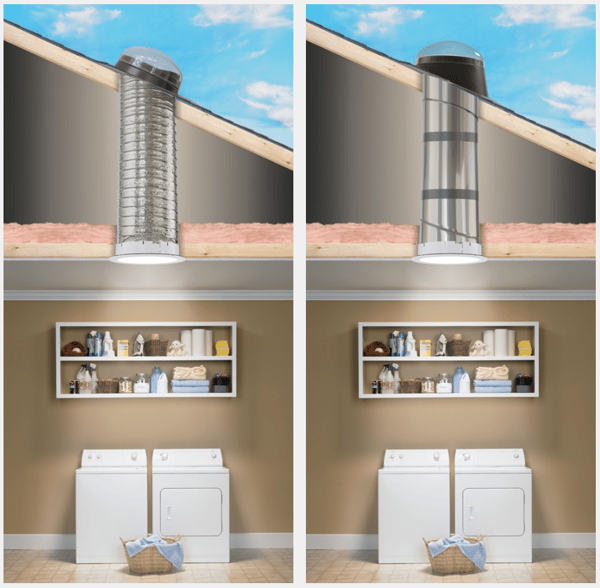 Flexible tunnels are recommended when installation around obstacles within the loft space is required. They are the easiest product to install because of the maneuverability of the material. More Flexible Sun Tunnel® benefits include:
Excellent for ease and speed of installation
Easily bends around attic obstruction
Helps diffuse sunlight in short runs
Ideal for shorter tunnel runs
Rigid tunnels, on the other hand, are recommended when there is a straight, unobstructed path from the roof to the ceiling. They can be maneuvered slightly, and a few of their benefits include:
Flexi Loc™ tunnel system allows for easy and speedy tunnel assembly
Brighter white light
Excellent for long runs
And no matter what roof style you're working with, there's a Sun Tunnel® Skylight to fit the project:
VELUX Sun Tunnel® Accessories
From decorative diffusers to a powered daylight controller, we have all the accessories needed to complete any VELUX Sun Tunnel® project for your homeowners. Check em out:
Solar Night Light
Designed to fit discreetly inside VELUX Rigid Sun Tunnel® Skylights, the VELUX Solar Night Light provides any space with a soft, soothing light from above when natural light isn't available. The Solar Night Light has a solar panel to collect daylight reflected down the tunnel. It uses this to power the powerful LEDs that provide a moon-like glow after the sun goes down. Homeowners who opt for this accessory become eligible for the solar federal tax credit based on the total cost of the project.
Decorative Diffusers
Transform Sun Tunnel® Skylights to match the interior decor where they're installed. Diffusers are available in a range of micro-engineered styles and patterns to increase interior aesthetics and visual appeal.
ZTP Daylight Controller
With the ZZZ 233 Power Supply, this controller allows users to control the amount of daylight that enters a room through the sun tunnel. This accessory is perfect for rooms that require darkening during the day.
ZTC Energy Kit
This accessory is designed to increase the energy efficiency of VELUX Sun Tunnel® Skylights and enables them to exceed ENERGY STAR® requirements.
ZTL Universal Electric Light Kit
This light kit enables flexible and rigid sun tunnels to be used as a light source even at night. Providing more light than the Solar Night Light, this enables sun tunnels to use electric lighting when natural light isn't available.
Tubes, Turrets, & Flashing
Other Sun Tunnel® Skylight accessories include:
ZTR Rigid Tube: 24" tunnel sections manufactured with the Flexi Loc tunnel connector system to extend rigid sun tunnels.
ZTE Elbows: durable, easy-to-operate elbows that can be used at the top, bottom, or middle of your installation.
Flexible Extension Tube: available to lengthen flexible sun tunnel installations.
ZTA Turret: for applications where the Sun Tunnel® Skylight dome needs to be raised above the height of our standard product.
Tile Flashing Kit: for Sun Tunnel® Skylights installed on tile roofs.