If you've been with VELUX for a while, you may have noticed some changes going on with our solar-powered products. Namely, this little icon that's popping up on our site, in our catalog, and on our brochures: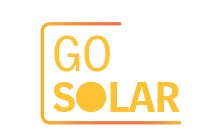 That's the new Go Solar logo, and it indicates which products are now a part of the Go Solar Initiative.
What's The Go Solar Initiative?
The Go Solar Initiative is VELUX's new way of encouraging homeowners to install solar-powered products in their homes.
You probably know by now that VELUX is all about sustainable living and energy efficiency, especially through skylights. Initially, we encouraged homeowners to opt for our Environmental Performance Model (EPM) Skylight as our greenest skylight option. But since our range of solar-powered options has expanded, we wanted to showcase our most sustainable products in a whole new light.
And so the Go Solar Initiative was born.
Why Go Solar Now?
The push to Go Solar now comes from two federal Acts - the Emergency Stabilization Act and the American Recovery and Reinvestment Act - that grant tax relief to homeowners for installing qualifying products in renewable technologies, like solar electric property.
2019 is the last year homeowners can take advantage of a 30% federal tax credit entitled to them by these Acts. In 2020, the federal tax credit goes down to 26%. And in 2021, it'll go down further to 22% before being eliminated altogether.
Homeowners receive this credit when they file their taxes, so it won't affect your bottom line during installation. But it is a good way to encourage homeowners to install solar-powered products, like our skylights, within the next few years.
What's In The Go Solar Family?
You've probably figured out by now that all of our solar-powered products are a part of the Go Solar Family and are therefore eligible for the federal tax credit.
But to save you from looking all over the site for that neat little Go Solar logo, here's a handy little list of all the products that are a part of Go Solar:
And take note: skylights that aren't solar-powered but are installed with factory-installed solar-powered blinds are eligible for the tax credit based on the cost of all products and installation. Similarly, while Sun Tunnels® aren't solar-powered themselves, they become eligible for the tax credit when a Solar Night Light is installed with them.
So, what are you waiting for? Get out there and encourage your clients to Go Solar!