There's a reason to the madness: One of our coworkers from VELUX Denmark made a trip over the pond to visit our VELUX America headquarters.
And I had the opportunity to drive her around Fort Mill, South Carolina, and its neighboring city of Charlotte, North Carolina.
What was most intriguing was out of all the places we stopped and buildings we walked through, she was most shocked by residential houses.

"All these houses are made with wood. That's different."

Growing up in the south, I'm used to seeing houses with wooden structures and siding. But to her, this concept of using wood to build homes was unusual.
...sort of like this proposal of building an 80-story skyscraper completely out of wood in Chicago.
Architects from Cambridge University, Perkins + Will, and Thornton Tomasetti want to build a monumental, one-of-the kind structure in a city already lined with impressive skyscrapers. And they want it to be wooden.
Dubbed the River Beech Tower, if completed, it will earn Chicago the title of having the world's tallest timber tower.
But should wood really be used in skyscrapers? Woodn't we all like to know!

"I don't think there's a height limit...The answer is yes, wood can go 80 stories, no problem. The issues are less on the technical side than on the code side."
— Andy Tsay Jacobs, director of the Building Technology Lab at Perkins + Will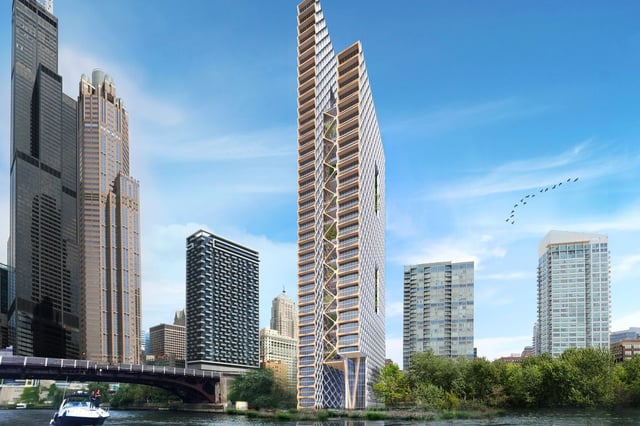 Photo Courtesy: Perkins + Will via ArchDaily

Hold up, I'm getting déjà vu.
In 1903, when the first concrete skyscraper touched the sky in Cincinnati, Ohio, most people didn't think the building would last the night.
Standing at 16-stories, the Ingalls Building made history with its all concrete-build compared to previous skyscrapers constructed with steel.
Naturally, when the plan for the building was first proposed many people speculated the results.
It's going to crack.

It will crumble under all that weight

It's going to blow over.
There even comes a story of a reporter staying awake all night in hopes of catching the collapse of the building, and being the first to report on it.
The Ingalls Building is still standing today, but back then, there were legitimate concerns attached to the project.
Glad history says I'm not the only one to question new engineering feats.
My first thought reading the proposal is what engineer agreed to test this? Or better yet, who is the fire marshal in charge of this building?
I'm not sure if I'm 100% hyped about the design idea...nor do I think I'm brave enough to work on the 80th floor of the building...but the concept of wooden skyscrapers does offer interesting perks.
For starters, wood is quicker to build with than concrete—and even faster than steel.
Plus, wood can be sliced in exact measurements in a warehouse somewhere else and then shipped to the site.
Another pro in wooden skyscraper's column is the environmental impact. At first, I thought that this benefit was ironic...use wood to help save the environment.
What we find, however, is that steel and concrete are responsible for about 8% of global emissions, whereas trees pull in carbon dioxide.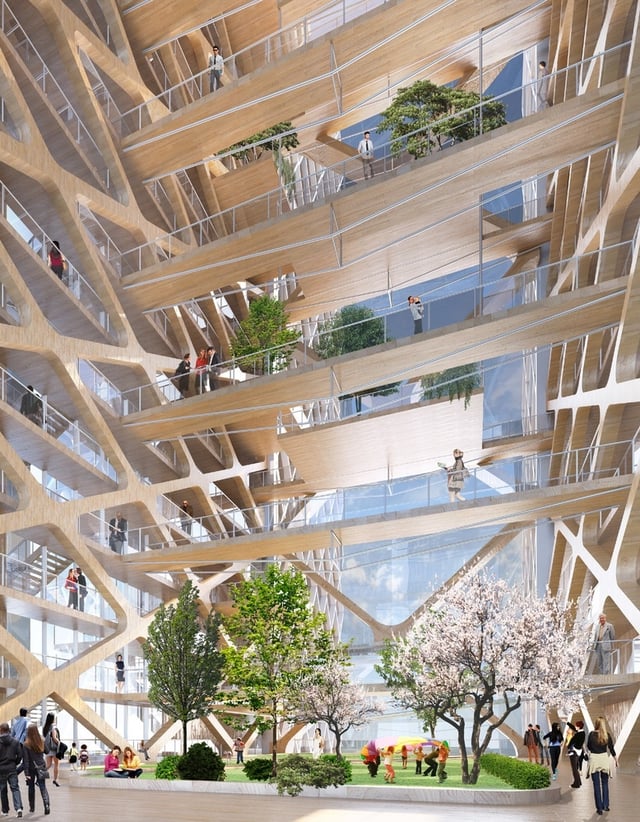 Photo Courtesy: Perkins + Will via ArchDaily
There's still a big fireball of concern here.
History, any advice?
From the Great Fire of Rome in AD 64, the Great Fire of 1666 in London, or even in Chicago itself with the the Great Chicago Fire of 1871, we know that wooden structures burn.
And one structure doesn't just burn alone...all of them can catch fire...which is why we made a huge shift to rock in the first place.
Anyways, the proposal for this 80-story, Chicago tower includes the use of beechwood, known for its beauty and usability in many of our household furniture, pallets, or railroad ties. Beechwood is also known for being an excellent firewood choice—it burns hot and clean.
But...

If you're making a fire, everyone knows you don't start with giant logs.
— Anthony Thisleton, Architect


True as that is, I still believe fire is an area of concern for the project. And it will be interesting to read their fire plan. Does this mean no portable heaters allowed at work stations? The horror.
As of now, there's been no discussion of when this 80-story skyscraper might make its debut. And the project is still in early research phase, so more questions should get answered soon.
And as more gets revealed, I'll be sure to make a follow-up post.
But for now, welcome back to the age of wood?